I remember exactly where I was when the news broke that Meghan Markle would become a member of the British royal family. It was like a dream. My head and heart were immediately consumed with so many competing thoughts and feelings, such as:
Who the hell is Meghan Markle?

Stop playing. There's a black woman named Meghan?

What the hell is this TV show Suits that you say she's in?

The USA Network is still around?

Which one is Prince Harry again? Is he the one who wore the Nazi uniform or the other one?

Seriously, there's a black woman named Meghan?

But as we draw closer to the royal wedding, everyone else seems to be very excited about the upcoming nuptials, while I'm just sitting here trying hard to care about it. I know it's big news, but I can't figure out why, for one simple reason:
I don't give a shit.
During our staff meeting at The Root, when we were asked about ideas for covering this blessed event, the conference line fell silent. Apparently I wasn't the only one. After a long pause, someone thankfully spoke up. Deputy Managing Editor Yesha Callahan bravely said, "Mike will write something!" [Editor's note: This is a goddamn lie; I probably hung up from the call two minutes after it started.]
So I was hoping that one of you could help me give a shit about all of this. Not a literal shit, like that white woman who took a dump on the floor of that restaurant in the viral video, but a metaphorical shit. A rhetorical shit, if you will.
To be fair, I am not too familiar with the royal family because I'm black. The only Prince we acknowledge is Prince Rogers Nelson.
Plus, if Harry is sixth in the line of succession, is he really a prince? If we went far enough down the line of succession, my name is in there somewhere. I think I'm 139,103,453rd in line for the throne, yet no one calls me a prince.
G/O Media may get a commission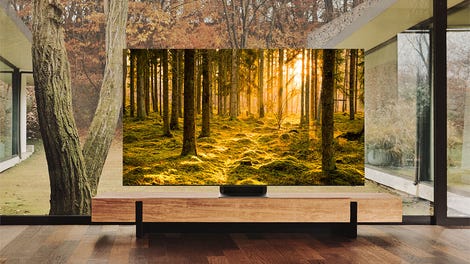 Up to 40% off
Samsung Smart TVs
Everywhere I look, people are preparing to watch the royal wedding, and I am struggling to care about any of it, partly because I don't really care about anyone's wedding. If I had video of my own wedding, I doubt I'd watch it because most weddings are boring. In fact, one of my best friends is getting married this summer. I probably won't watch the footage, and I'm the best man!
But I have come up with a list of reasons that I would be interested in a wedding of two people in whom I have absolutely no interest:
If Harry Potter shows up. I watched the Harry Potter documentary series, so I'm sure he's invited to the wedding. His presence might garner a slight bit of interest from me, but only because I'd want to see what kind of broom he arrives on. Will it be a straw broom or one of those cheap, dollar-store brooms with the plastic bristles? Or maybe he rides a vacuum cleaner for formal occasions.
If someone fights. I know the royal family is the definition of bougie, but from the little bit I've heard about Markle's family, she comes from the kind of white people who will fight at a wedding. I know the chances are slim because the white side of her family might feel out of place outside a trailer park, but I'm betting one of her cousins will wear a nice gown with a pair of flip-flops. They'll be formal flip-flops, of course.
If there's video of the reception. Despite my lack of interest in the wedding, I'd watch the reception footage because one of the unwavering joys of my life is watching white people dance.
If they bop down the aisle. If they came down the aisle to a Luther Vandross song or Jodeci's "All My Life," that would be so dope! Especially if they bopped down the aisle like we sometimes do at black weddings. Don't act like you don't know what I'm talking about. White people walk down the aisle, but black people bop. Markle is half-black, and you know there's always one aunt who choreographs the wedding march. I was once a groomsman in a wedding whose march was more intricate than a Janet Jackson routine. But are any of her black relatives, besides her mother, invited? I don't even know if white people in Great Britain have aunts because they're a totally different brand of white people ... maybe there's hope.

If somebody catches the Holy Ghost. The only thing I love more than seeing white people dance is seeing them catch the Holy Spirit, which, if you think about it, is kind of the same thing. If you doubt this would happen, let me remind you that there's going to be a black bishop performing the ceremony. I think it's T.D. Jakes. Maybe it's Creflo Dollar. Like I said, I haven't really been paying attention, but I'd love to see the queen sing and shout like this:
But aside from these five reasons, His Royal Highness Michael Harriot, Prince of Welps, probably won't watch the royal wedding.