In the face of mounting criticism for its lack of on-air diversity, earlier this year Saturday Night Live hired its first black female cast member in five years—comedian Sasheer Zamata. But SNL reached another diversity milestone this year that didn't generate quite as much attention but was arguably even more significant. For the first time, two women of color joined SNL's writing staff: LaKendra Tookes and Leslie Jones.
Beyoncé's Feminist Anthem "Run the World (Girls)" A Decade Later
The significance is clear: If there aren't writers behind the scenes who write sketches with people of color in mind, then there will be fewer opportunities for people of color to appear on the screen. And now the New York Legislature is considering a bill that would provide tax incentives aimed at encouraging other shows and production companies to diversify their writing staffs, too. 
Assembly Bill 7373 would provide tax reimbursements to film and television productions for writer-associated costs as long as a writer of color is included on the staff. The bill reads, in part:
For a feature film or television production, writers' fees and salaries shall be eligible costs; provided, however such costs shall not exceed fifty thousand dollars in fees or salary per writer per qualified film and provided that such writer is a minority group member, as defined by subdivision 8 of section 310 of the executive law, or a woman.
G/O Media may get a commission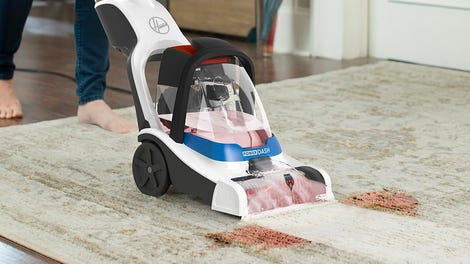 26% Off
Hoover PowerDash Pet Compact Carpet Cleaner
In recent weeks the bill has gained widespread support among members of the Writers Guild of America, which has been championing the bill and mobilizing members to contact local legislators and encourage them to support it. A spokeswoman for Democratic Assemblyman Keith Wright, who introduced the bill, told The Root, "We must have gotten a few hundred calls in the last couple of weeks from the Writers Guild and their supporters." But when asked why the issue of increasing diversity in entertainment—while a worthy goal—should take precedence over what may be seen as more pressing issues in communities of color like Harlem, which Wright represents, his spokeswoman said that the issues facing these communities are intertwined and that the assemblyman's position is clear.
This isn't legislation about diversity for diversity's sake; rather, it's for the sake of economic empowerment. "Everyone knows," she explained, "you have to work to build up a résumé. If you don't work, it doesn't matter how talented you are. So that's where his passion for this bill came from. It was about expanding access to opportunities to get into the industry for a crop of talent that we feel is underrepresented and has historically been underrepresented."
She went on to explain that these opportunities result in jobs for people who then have a widespread impact on communities. State Sen. Kevin Parker, also African American, and who represents a district that encompasses heavily minority enclaves in Brooklyn, echoed this sentiment, saying that this is a bill that is ultimately more about business than activism. "Over the last couple of years," he said, "we've been doing a lot to encourage television and movie production in the state of New York, and this goes alongside that. We want to make sure that we increase both economic opportunity and jobs on the production end" and make sure "that blacks and Latinos are included on that end."
As in the theater, diversity behind the scenes tends to result in more jobs for minorities throughout the industry. Black producers are more likely to consider minorities for other roles, such as actors and stage managers. Similarly, television shows with black writers tend to feature more-diverse casts. Grey's Anatomy and Scandal are both helmed by Shonda Rhimes, a black woman, as is BET's Being Mary Jane, written by African-American husband-and-wife team Mara and Salim Akil.
Wright's spokeswoman expressed cautious optimism that the measure will succeed. It was introduced last year as a stand-alone bill, but this year it was introduced as part of the official state budget, with the aim of expediting its implementation and emphasizing how seriously legislators view the issue. As Parker explained, "We see the arts as economic development in the state of New York. We are talking about the cultural capital of the United States in New York City."
"We want to make sure," he adds, that "as we create jobs and economic opportunities that diversity is part of that mix."
Keli Goff is The Root's special correspondent. Follow her on Twitter.
Like The Root on Facebook. Follow us on Twitter.
Keli Goff is The Root's special correspondent. Follow her on Twitter.