First kids—they're just like us!
Ah, youth. I remember my college years at a predominantly white college in the Northeast, navigating a course load and campus job while trying to figure out how to stay cute while washing my hair with extra-hard dorm water ... good times. It's no wonder that by the end of my sophomore year, I was paying one of my few fellow black girls to give me waist-long micro-braids I could easily topknot and still look fly during my summer vacation.
All this to say that I relate to Malia Obama, fresh off her first year at Harvard and likely headed to yet another summer of interning in New York City (though, as of March, the Weinstein Co. purportedly still owes her money for last summer). It's no wonder she decided to take some time off from tending to her usually long and flowing tresses—and give those tresses a timeout, too—by getting some long and flowing box braids going in their stead.
But as soon as a shot of Obama's new look—which features loosely curled ends, likely to give her some semblance of her normal hairstyle—hit the internet, everyone had to weigh in with an opinion, some with the hashtag #LaidOrPlayed. A small sampling:
"Is she letting her white home girls braid her too?" one commenter asked on Instagram.
G/O Media may get a commission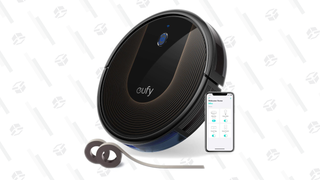 48% Off
Eufy BoostIQ RoboVac
"Right," another responded. "[L]ike do they not have black hair stylist[s] out there who can hook her up...cause dang smh!!"
"A mess," another declared.
And those were the more neutral reactions; never mind the requisite insults automatically lobbed at anyone with the last name Obama (or anyone who's a black woman), regardless of whether they had a hand in running the free world. Even on our own team here at The Root, there were gentler but still critical comments about the state of Obama's ends, and whether the hair used to braid her hair looks too synthetic.
But is this the best we have to offer a child who, by no will or effort of her own, already spent eight years under the scrutiny of the entire world, simply for existing? She's not allowed to look like an average college kid, figuring out her look (or, God forbid, occasionally getting it wrong) or just rocking a protective style so she can kick it without being worried about what her hair looks like?
Thankfully, there were ultimately far more supporters than haters on the internet; a Twitter search will now bring up articles of folks dragging other folks for dragging Obama, and other folks who think the firstborn of the former "first children" looks both seasonally and age-appropriate—as well as an adorable throwback to mom Michelle's collegiate cornrows.
All I can wonder is if that look on Malia Obama's face is because she's a full decade of tired of having her every public outing recorded by the paparazzi, or if her braids still hurt. Because full disclosure: It's not always a perfect science, even by so-called experts. In fact, if I'm really honest, my college braiding experience was a multiphasic affair—not because my friend wasn't a solid braider, but because I had to figure out how I wanted my braids to lay; how tight, heavy or long I could comfortably tolerate them; and what diameter looked best with my features (and ultimately, it's just braids, y'all).
But for now, how about we just assume that Malia Obama wasn't even that pressed, and just wanted to give herself a break for the summer?
And then, how about we give her one?