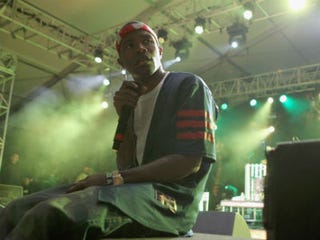 While hip-hop didn't begin with a message of misogyny, thanks to the gangsta rap era such ideas and the residual effects have lingered long past the 1990s. Cheryl Lynn, blogger for Digital Femme, delves into hip-hop's treatment of women in the context of Frank Ocean's declaration of bisexuality.
And yet, strangely, due it its current ubiquitousness, hatred of black women is not a tenet of hip hop, is not necessary for hip hop to thrive, nor was it present at its birth. Though the arena was dominated by men, women were given a clear voice in the genre via ladies such as Roxanne Shanté. Hip hop in its earliest days was an even field where men and women of color could have an open dialogue—one that was teasing and playful. The words of black women were considered and sought for inclusion. Black women were not depicted as a monolith and had multiple roles available to them—sister, wife, and lover; trophy, thief, and soldier; adversary and confidant. No, not all of these roles were beneficial. However, there was diversity and choice. That choice is long gone, quietly usurped during the late nineties and aughts with the onset of the commercialization of gangsta rap and its permeation of hip hop.

The misogyny directed towards black women in gangsta rap was a curious thing rooted directly in America's racist history. There are black men everywhere, in numerous countries, counties, and cities. And in all you could find black men who struggle against deprivation and violence. And yet it is in America where the hatred, debasement, and ridicule of black women in particular were originally forged in song for relief and release. And America, which has culture as its chief export, packages this hatred and ships it, spreading the cancer that is our unique brand of racism to all regions of Gaia's womb—from Compton to Krakow to Conakry.
Read Cheryl Lynn's entire piece at Digital Femme.
The Root aims to foster and advance conversations about issues relevant to the black Diaspora by presenting a variety of opinions from all perspectives, whether or not those opinions are shared by our editorial staff.