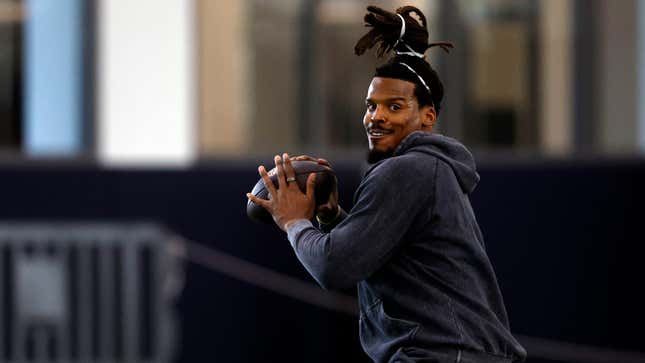 A spectator who decided to heckle Cam Newton during a football camp learned the hard way that the football star has no problem firing back in his own crude way. Newton was participating in former UCF kicker Donald De La Haye's "1ON1" tour, which made a stop in New Orleans at the time of the encounter.
Tackling A Black Maternal Health Crisis & Embracing Reproductive Justice | The Root Institute
According to a video that has been circulating around the internet, Newton approached the onlooker, who teased the former Patriots and Panthers quarterback. The fan yelled at the NFL star, "How many rings you got?" Newton answered, "None." The spectator commented, "We've got the same amount."
However, Newton—who was in the NFL for 11 years—retorted, "But we don't got the same bank account." He also made an NSFW gesture with his hands. Someone who was on the sidelines told Newton that he was "too famous to be acting like that."
"No, no, don't play the victim now," Cam responded. That's when the video footage ended. As fans may remember, this isn't the first time Newton has gone viral for going back and forth with young fans on a football field. In 2021, a high school football player has an exchange with Newton over him being a free agent.
Newton went to the Super Bowl in the 2015 season with the Carolina Panthers but lost to the Denver Broncos. In all of his NFL seasons, Newton earned nearly $133.5 million from contracts with both the Panthers and New England Patriots.
In addition, Newton has partnered with big brands like Beats by Dr. Dre, Under Armor and Gatorade. Newton injured his throwing arm in 2016 and hurt his rotator cuff in 2017. He also hurt his shoulder in 2018 and had a serious foot injury in 2019.