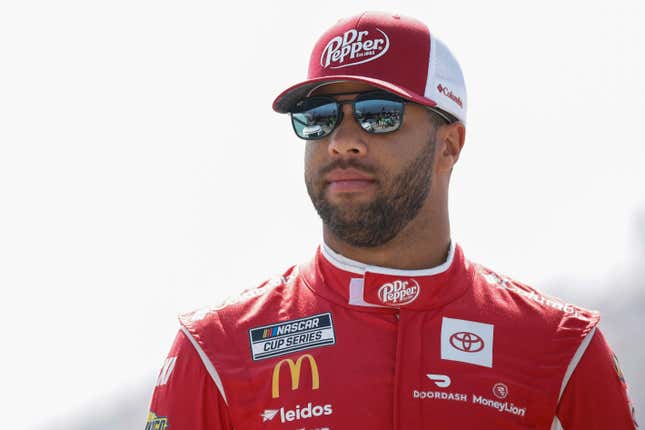 NASCAR driver Bubba Wallace had a great finish in Sunday's $1 million All-Star race. Unfortunately, racists just couldn't let him have his moment without inserting themselves into it. According to Motorsport, as the No. 23 driver crossed the finish line in second place, someone was able to key into his team's radio system with hateful messages. They said, "Go back to where you came from, you asshole. You're not wanted in NASCAR." That was followed by, "You suck and you're not wanted in NASCAR." A 23XI Racing spokesperson told the outlet that Wallace "did not hear the comments or acknowledge them at the time."

This Juneteenth We Revisit The Anderson .Paak BLM Track "Lockdown"
It's not like we're talking about the CIA, but how does a random person get on a driver's radio during the race? Most teams try to keep radio chatter limited, so the driver doesn't have a lot of different people in their ear while they're going 200 miles per hour. It's ridiculous that NASCAR's only Black driver has to constantly balance these things with the rigors of being a professional race car driver. Sunday should have been a great success for him, but for Bubba, his big moments are always overshadowed by racist nonsense. NASCAR's "security operation is investigating the incident in an attempt to determine who accessed his radio channel and how."
On Saturday, during driver introductions for the NASCAR Craftsman Truck Series, he was booed. When he was asked about the crowd reaction after the race, Wallace noted how that happens "every week." He explained that it's "not great," but he tries not to let it bother him. Bubba also revealed that he got a good payday for the race, so he's good.
"As long as you continue to live your life judging a book by its cover, that's who you are," he told WSOC. "Don't change it up for anybody else. That's the biggest thing. That's fine."

Bubba Wallace knew what he was getting into when he became a NASCAR driver. He knew it was going to be hard. However, that doesn't mean he should have to put up with endless bullshit and just shut up. At some point, NASCAR has to do more to help protect him from this abuse and harassment.