In what might be the most bizarre case to ever shame a NBA organization, Bryan Colangelo resigned Thursday as president of basketball operations for the Philadelphia 76ers after a private investigation firm found that Colangelo's wife created several Twitter accounts to leak damaging and private information about 76ers players.

And, get this, Colangelo is pissed that his wife reportedly did this.
According to TMZ Sports, Colangelo released a statement throwing his wife, Barbara Bottini, straight under all the buses.
"While I am grateful that the independent investigation conducted by the 76ers has confirmed that I had no knowledge of or involvement in the Twitter activity conducted by my wife, I vigorously dispute the allegation that my conduct was in any way reckless," Colangelo wrote in his statement, which was viewed by TMZ Sports. "At no point did I ever purposefully or directly share any sensitive, nonpublic, club-related information with her."
He went on: "Her actions were a seriously misguided effort to publicly defend and support me, and while I recognize how inappropriate these actions were, she acted independently and without my knowledge or consent."
G/O Media may get a commission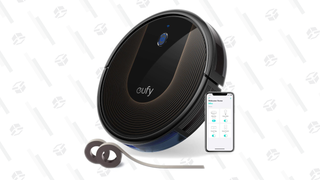 48% Off
Eufy BoostIQ RoboVac
Bryan also says that his wife didn't even leak well: "Further, the content she shared was filled with inaccuracies and conjecture which in no way represent my own views or opinions. While this was obviously a mistake, we are a family and we will work through this together."
For days the 76ers had been mired in the burner-account scandal. According to the Bleacher Report, Bottini's Twitter accounts were used to bad-mouth players and defend decisions the organization had made:
The accounts claimed Jahlil Okafor failed a physical, nullifying a potential trade to the New Orleans Pelicans in February 2017. They also called Nerlens Noel a "selfish punk" after Colangelo was criticized for the paltry haul he received from the Dallas Mavericks in exchange for the disgruntled center, and they suggested Joel Embiid hid injury information from the team.

Embiid's fondness for social media was also scorned, and the accounts described the franchise center as "a bit lazy" and "selfish" while saying the 76ers were now Ben Simmons' team.

The accounts even accused head coach Brett Brown of sabotaging the team by benching Markelle Fultz and blamed a family friend and trainer for the guard's shooting issues.
Colangelo's statement acknowledged his wife's participation in destroying his job and added that because of her actions, he would be stepping down: "Although I am not directly responsible for the actions, I regret this incident occurred and understand that it has become a distraction for the team. Therefore, the organization and I have mutually agreed to part ways."
Damn.