Back in college, I attempted the silliest thing ever after shopping for bras. I couldn't find a caramel-colored bra for the life of me, so I decided to get a white bra and attempt to dye it brown, or the closest color I could get to caramel. You see, if you were a brown-skinned woman, the nudes sold in department stores just weren't going to cut it. Needless to say, my brown-skin-color bra didn't really come out that great, and I was left with a mess in the dormitory bathroom.
Years later, the quest for the perfect matching nude for women with tan or brown skin is still an issue. And in 2015, when Nubian Skin founder Ade Hassan launched her brand, it was because she decided it was time for "a different kind of nude."

"I came up with the idea in 2011. I was working and in consulting at the time, but I always wanted to do something entrepreneurial. A frequent problem that I had was ... when I wanted to wear hosiery that was my skin color. I think any black woman or woman of color usually crossed their fingers when they saw brown tights, but when they get them home, they were ashy," Hassan told The Root.
It was then that Hassan decided to take nude matters into her own hands, and in 2013 she started to trademark the company and flesh out a business plan.
"We launched in 2014, and our campaign went viral in August that year. The reception over the last couple of years has been pretty amazing. Personally, I'm grateful to black women who saw those images and reposted and retweeted and shouted about it so much that mainstream media finally picked it up," Hassan said.
G/O Media may get a commission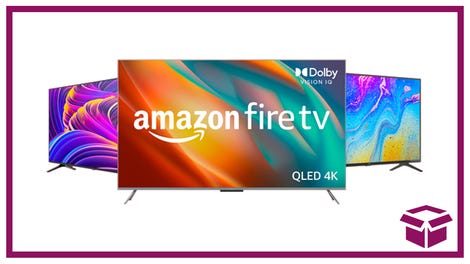 Ooh. stunning.
New Amazon Fire TVs
Currently, Nubian Skin consists of lingerie and hosiery and, now, nude shoes that include heels and ballet flats. Not only can you find the products on the company's site, but Hassan's products are also at major retailers like Nordstrom and online at ASOS.

"The shoes are online only, and it was just another thing where people went, like, 'OMG, I can finally have a nude for me,'" Hassan noted.
The popularity of Nubian Skin has consistently risen over the last couple of years, but when it comes to other nude products that specifically cater to women of color, there's still a definite disconnect in the beauty and fashion industries. Sure, Christian Louboutin has a line of nude shoes, but can the average person randomly drop $875 for a pair of shoes, just to find the perfect brown? Of course not, but you don't have to with Nubian Skin around. With prices ranging from $94 to $124, you're not going to miss a car payment just to look fashionable.

---
It's safe to say that Hassan, who could be considered a veteran in the nude game for women of color, has paved the way for other entrepreneurs looking to cater to those with brown skin. And in the world of cosmetics, where black women collectively spend an estimated $7.5 billion annually, you can't really say there are a lot of options out there if you want a nude look, especially when it comes to lipstick and nail polish. But that's where Mented Cosmetics hopes to fill the void.

Mented Cosmetics is the brainchild of Harvard Business School graduates K.J. Miller and Amanda E. Johnson, and currently consists of nude lipsticks and nail polishes catering to women of color and our version of "nude."
Miller, who comes from a retail background, met Johnson at Harvard, from which they both graduated in 2014. Johnson, who has an investment banking background, said that the two women launched Mented last fall.
"We knew we wanted to do a start-up together in business school. We just clicked," explains Johnson. "And after school, we would meet up, and with my digital background and her retail background, we knew we were well suited for a company."
During a random conversation about makeup and beauty hacks, Johnson said they both realized that nudes for brown women were missing—and that's how the idea came about.
"There was something missing in the market for women of color when it came to nude lipsticks. It's something that should be a part of every woman's beauty routine, but it was missing," Johnson said.
After heading to Sephora to try to see what it offered women of color in nude—products that didn't include manipulating brown lip liner and pink lipstick to make it happen—the women knew how important making a nude lipstick line was.
When it came to the research and development, Miller and Johnson were hands on.
"We went to every makeup counter asking for nude lip, but they couldn't do it. So we said, 'OK, let's see if we can do it on our own,'" Miller said.
"We then reached out to manufacturers all over the East Coast, explaining our concept and wanting to create nude shades for women of color, but they didn't get it. They wanted us to pick from their stock colors. But there were these pale pinks and super-dark browns. We taught ourselves how to make lipsticks with the aid of the internet. We crafted every single shade in our line," Miller said.
And for those wondering, Mented lipsticks, which sell for $16.50, are vegan, paraben-free, nontoxic and cruelty free and proudly made in the USA.
By now you've probably seen Mented posts on Facebook and Instagram, and the company has received praises for its products.
Miller, Johnson and Hassan didn't wait for someone else to make products that cater to them; they took matters into their own hands.

When it comes to business, social media plays a huge role nowadays. Hassan noted that it's easier for people to launch their brands without spending a lot of money because you can easily develop a social media following.
"We're really lucky in this day and age, because historically, it's been hard if you didn't have the money to advertise on TV or magazines, if you didn't have thousands or millions of dollars. Nowadays, with social media, you just need great images that are true to your brand," Hassan says. "You just need your phone and images; that's it. Be on social media and use it to your advantage. Use it to your advantage. You just need your phone."
Mented used Instagram to their benefit by sending their products to influencers to garner feedback, which Miller says has been great.
"Customers really enjoy feeling and being prioritized by a beauty brand," Miller said.
Currently, Mented has nine lipsticks and three nail polishes, but they plan on launching more products.
"We feel Mented is a full-fledged beauty brand. This fall we'll be releasing lip gloss, and next year we'll move on to eyes and cheeks. We're going to introduce eye shadow palettes as well as blush and highlighter. From there, it'll be full face," Miller said.
With Nubian Skin and Mented Cosmetics giving women of color more options, you will probably see larger companies popping up with their own versions. But when you have companies that are for us and by us and are paving the way, I at least know who's going to get my coins.