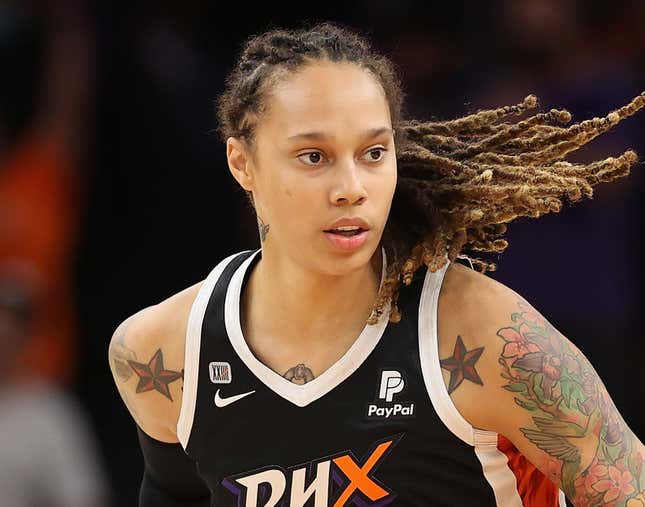 It's been a little over a month since Brittney Griner was released from Russia in a prisoner swap in December. However, there are those who are still upset about the details of the exchange and they will not let the WNBA champion enjoy her time with her family.

Terry Crews Talks AGT, Hidden Talents, & Falling For A White Chick
Griner, a center for the Phoenix Mercury, was recently named the Arizona Republic's Arizonan of the Year "because no other Arizona newsmaker in 2022 captured the public eye as intensely as she did. Nor has anyone's story in this state aroused the kind of fear and foreboding that hers had for nearly 300 days."
Though the Arizona Republic made it perfectly clear why they chose Griner, the backlash was almost instantaneous. Critics couldn't believe that the WNBA star was given the same honor that was also once given to Pat Tillman, a former Arizona Cardinals player who gave up his NFL career to serve in the United States Army and was killed in the line of duty.
The Media Research Center, which calls itself "America's Media Watchdog" in its Twitter bio, tweeted, "The Arizona Republic seriously just awarded Brittney Griner their 'Arizonian of the Year' award. The award had previously gone to people like late hero Pat Tillman."
Another user wrote, "The Arizona Republic just awarded Brittney Griner their 'Arizonian of the Year' award. The award had previously gone to people like late hero Pat Tillman. What a mess we are in…."
"Brittney Griner just won the Pat Tillman award….. one left the NFL to go defend the country and the other got locked up abroad for breaking the law. #GreatChoice," read another critical tweet. Just as an FYI, it's not called the Pat Tillman award, but they can't let facts get in the way of fake outrage.
First of all, let's not pretend like any of these people are concerned about Pat Tillman's legacy. Have they also had issues with the multiple politicians, volunteer groups, philanthropic foundations and OSIRIS-REx space mission, all of whom have been recognized with the award since Tillman won in 2004? Are we saying that former honorees Senator Kyrsten Sinema (I-AZ), former governor Doug Ducey and late Senator John McCain (R-AZ) are all on equal standing with Tillman's heroics?
This is about conservatives being upset that a queer Black woman has received the honor. This is also part of their continued efforts to use her release as a way to attack President Biden. Despite the fact that the White House and State Department have made it abundantly clear that Russia was completely unwilling to discuss the release of former Marine Paul Whelan, they're still upset that Griner was brought home while he remains imprisoned in Russia.
If the point of the honor is to recognize the Arizonan who was the biggest "newsmaker" of the year and someone who galvanized the community to come together to support them, then this seems like a no-brainer. No disrespect, but we're not talking about the Nobel Peace Prize. Maybe you can all relax and focus on your state's real problems. Hasn't Brittney Griner spent enough time being used as a political pawn?