The opening of Breaking In is jarring and confusing and sets the tone for the rest of the roughly 90-minute film, which could best be described as Panic Room-meets-Eye for an Eye—with black people.
A handsome, older black man is jogging through a residential neighborhood when he is suddenly and without warning struck by a pickup truck. As he lies in the street, struggling for what are probably his last breaths, the driver of the truck gets out and stomps him, ensuring that he dies.
That one confusing incident is the setup for a film that, while full of plot holes and unanswered questions, gives us plenty of Gabrielle Union kicking ass—and that is what we all want to see anyway.
Union plays Shaun, and the dead man is her father. Shaun and her two children, Jasmine (Ajiona Alexus) and Glover (Seth Carr), head to her father's technologically advanced and highly secured fortress somewhere in Wisconsin to prepare the house to be sold. Shaun grew up in the home, but her children have never been there before.
They are immediately mesmerized by the mansion, and as Glover goes wandering around, playing with a drone he found and exploring the property, Jasmine—in typical teen fashion—finds a room to sit alone in with her cellphone, listening to music and chatting with her new boyfriend.
G/O Media may get a commission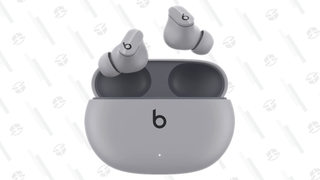 Just why Shaun's father was killed and what he did for a living is never explained, but he was clearly wealthy, and it is a piece of that wealth that four bumbling criminals are after when they break into the home.
The thieves are after a safe that contains $4 million in cash. Again, we don't know how they knew about the safe and how they got into the fortress unnoticed, but once they are inside, Shaun suddenly finds herself locked outside and away from her children. The thieves then taunt Shaun, holding her children hostage, and the rest of the movie is spent on Shaun trying to get back in and save her babies.
Because what mother wouldn't do whatever it is she needs to do to save her children from the bad guys?
Shaun and her children prove to be incredibly smart, at times outwitting the idiots who have broken in and are holding them hostage; but there is enough tension, twists and turns to make you wonder whether or not the three of them will actually make it out alive.
The action in the film moves fast, and the more the criminals irritate Shaun, the more ass she kicks—and that alone makes the film well worth the price of admission.
Union is definitely action-movie material, but while Breaking In showcases her action chops, it doesn't do her justice. Still, it's worth watching, if only to see one beautiful black woman kick the asses of four desperate men, all while working to save her children.
Both Union and Richard Cabral—who plays a completely unhinged criminal who gets a sick thrill from maiming and killing people—give standout performances in the film.
Breaking In opens in theaters Friday, May 11.