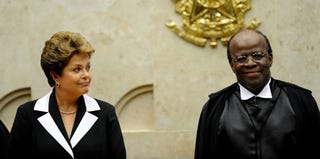 Though half of Brazilians identify themselves as being of African descent, the country only swore in their first black Supreme Court judge president this week. On Thursday, Joaquim Barbosa, 58, was officially promoted to president of the South American country's Supreme Court, the apex of a journey that began in 2003 when he joined the bench. According to the Huffington Post, the position carries a two-year term.
Over the past several weeks he gained national and international renown presiding over a high-profile corruption trial involving a congressional cash-for-votes scheme. The court has convicted 25 people including the former chief of staff of ex-President Luiz Inacio Lula da Silva.

President Dilma Rousseff, members of her Cabinet, state governors, congressional leaders and several sports and entertainment personalities were present at Barbosa's swearing in.

"The multiculturalism that characterizes the Brazilian people is evident here today with Joaquim Barbosa heading the highest court of the land," said Ophir Cavalcante, president of the Brazilian Bar Association in a speech during the swearing in ceremony.
Read more at the Huffington Post.
Like The Root on Facebook. Follow us on Twitter.