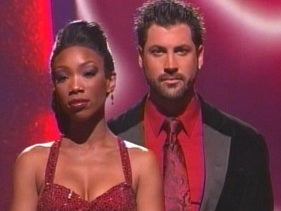 R&B singer Brandy has been axed from Dancing With the Stars. Brandy earned a perfect score for her Argentine tango on Monday's episode, only to learn Tuesday that it would be her final dance in the competition. The 31-year-old singer and actress was eliminated from the hit ABC dance-off just before next week's final showdown for the mirrorball trophy. Jennifer Grey, Kyle Massey and Bristol Palin will compete for the prize next week. Brandy was speechless when host Tom Bergeron announced that she would be leaving the show. "I don't know how to feel right now," she said. "It hasn't processed yet for me."
Upon learning of her fate, members of the audience audibly gasped, some booed, and her partner, Maksim Chmerkovskiy, addressed the disappointed fans. Brandy seemed as shocked as the rest. On Monday night she was the second-highest scorer; her first routine was the paso doble, and judge Len Goodman said that the singer gave 100 percent. Her second performance of the night was the Argentine tango, and judge Bruno Tonioli couldn't get enough. He said her performance was "languid and voluptuous and full of emotional depth." She ended up scoring 57 out of 60 possible points. All is not fair in love, war or dancing contests that aren't really about dancing.
Read more at MTV.com.