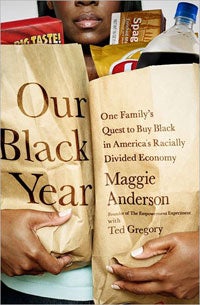 In her latest book, Our Black Year, author Maggie Anderson recounts her family's experiment to patronize only black businesses at the height of a dwindling economy. Anderson's family members live somewhat cushy lives in suburban Chicago, but after realizing the all-too-common failures of African-American businesses, the Andersons decided to make a change — to "buy black." In between anecdotes from their yearlong experiment, Anderson highlights stats and gives history lessons on the enduring economic disparity that blacks continue to face.
Our Black Year is available online and in bookstores.
Previous recommendation: R&B Songstress Monica Back With New Album.
Got ideas for The Root Recommends? Send them to recommendations@theroot.com.