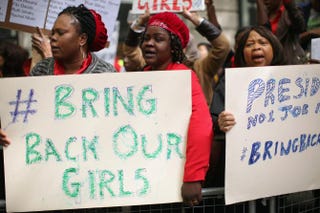 Boko Haram, the Islamic terrorist group that has been in the spotlight since abducting more than 200 schoolgirls from Chibok, Nigeria, in April, is once again drawing attention to itself, releasing a video mocking the Bring Back Our Girls campaign, NBC News reports.
In the video the radical group's leader, Abubakar Shekau, can be seen laughing and chanting "bring back our army," in a taunt targeting the very Twitter campaign that was launched against him and his group. Although some of the girls have managed to escape, Boko Haram's reign of terror hasn't ended, as it reportedly continues to raid villages, abduct people and bomb public places, including a gathering of FIFA World Cup fans and a medical school.
Despite the fact that more than 200 girls remain missing, the Nigerian government has concluded its investigation, declaring that it will not negotiate with terrorists. Boko Haram has said before that it will not return the remaining girls until members of the group have been freed.
Read more at NBC News.