Dan Morse and Josh White of the Washington Post report that the body of 11-year-old William McQuain has been found. McQuain was last seen on the surveillance camera of a self-storage center in Germantown, Md., on Oct. 1. McQuain was with his stepfather, Curtis Lopez, the man who police say killed his mother, Jane McQuain, and then the boy.
It was clear on the surveillance tape that William had no idea that his stepfather had stabbed and killed his mother earlier in their nearby apartment. By the end of the day, police said, Lopez would also kill William and toss his body in the woods.
For days, police and volunteers conducted a massive search in hopes the boy would be found alive. Friends gathered for a vigil, and his football buddies put stickers on their helmets: "William McQuain. We ♥ U."
Sadly, William's body was found in the woods near his home. Police were able to locate the boy's body by tracking movements on Lopez's cellphone. Lopez was arrested in Charlotte, N.C., on Thursday of last week. He has been charged with murder in the slaying of McQuain, 51, and police said they expect to charge him with murder in William's death, too.
Days before William disappeared, Jane McQuain and Lopez had taken William on vacation to Ocean City, Md. McQuain told a friend that she and Lopez had a fight and she was scared. Lopez was found in Charlotte in McQuain's car, which had been in an accident. The car was being driven by another woman, who claimed to be Lopez's girlfriend. The woman said that the car was Lopez's mother's car.
G/O Media may get a commission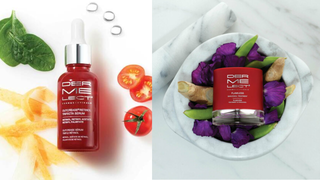 Save $19
Retinol Renewal Kit
Can you say "sociopath"? How sad is it that Lopez murdered Jane McQuain and her son and then expected to go on with life, using McQuain's things? Why exactly did he kill little William? Jane McQuain was already dead, so there was nothing to gain from William's murder.
Domestic violence is often thought of as an adult problem, but children are also affected, as is the case with William. We hope that William and his mother can find the peace in heaven that they could not find on Earth.
Read more at the Washington Post.
In other news: Obama and First Lady to Promote Plan for Unemployed Vets.