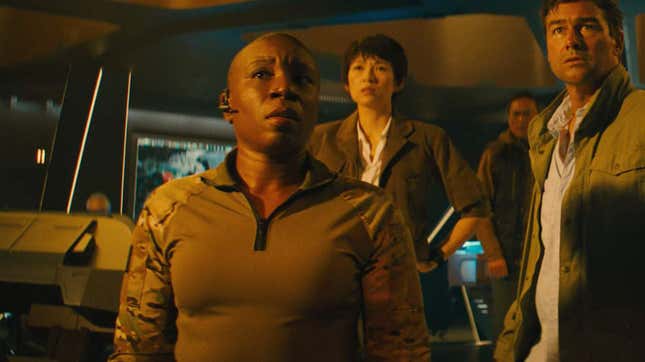 Anyone who had the pleasure of watching actress Aisha Hinds monologue her way through a series of breathtaking appearances as Harriet Tubman on the tragically underrated (and sadly canceled) series Underground knew they were witnessing someone wondrous.
Courtney B. Vance in Heist 88 Is Our Black TV Pick of the Week
Her newest vehicle, Godzilla: King of the Monsters, may leave the wonder to the monster-creating effects of CGI, but Hinds is making no less of an impact with her presence. In the role of Colonel Diana Foster, she breaks new ground by holding a rank women have yet to offscreen, leading a Green Beret-level special operations force (including a hilarious O'Shea Jackson Jr.) ready to do battle with some of the most terrifying creatures filmmakers can dream up.
But as Hinds reminds us, her role remains a dream for many women in the military.
"That's a thing that doesn't exist in the world," she told The Glow Up. "Women just started to be able to go through their special forces assessment to even make to the next portion of [special forces training]; women are not serving or functioning in this role.
"So here is this woman who now represents something that doesn't yet exist in the world, and making it a possibility, which for me is a huge thing" says Hinds of the fictional Col. Foster "[I]n this time when we're super deliberate about making sure there's representation, this was a beautiful opportunity to not just see a woman in this role, but also to see African American women in this role."
Joining a diverse cast that includes Jackson, Millie Bobby Brown, Vera Farmiga, Ken Watanabe, Kyle Chandler, Ziyi Zhang, Game of Thrones favorite Charles Dance and more, there's no shortage of Hollywood star power in King of the Monsters. But just as when saving lives and playing scenes opposite onscreen homegirl Angela Bassett in the Ryan Murphy-led Fox series 9-1-1 (recently renewed for a third season), Hinds can more than hold her own—even in the face of the larger-than-life legacy that is the once again reincarnated Godzilla franchise.
"You know, you grow up watching these big, impressionable movies that have these undercurrent themes that you connect to, even as a child," she says. "And so, as an adult, when you see them come around, and you have an opportunity to have a voice in it, and you have an opportunity to be woven into the legacy of it, that was one of the things that was a major draw for me."
Of course, Hinds' tremendous talent exists within a body that rarely been lauded by Hollywood (but we think is just fine—emphasis on fine) has never held up as the starlet prototype. Bald, brown and bigger than a sample size 2, Hinds has had to find her own ways to express her beauty, style and self-acceptance. Enter social media; those of lucky enough to follow Hinds on Instagram get regular doses of some pretty spectacular street style along with everyday inspiration and affirmation—not to mention a slammin' spectacle game.
Hinds confirms the buoyant tone of her online presence is strategic—and rooted in responsibility.
"With the advent of social media—because social media can be a trap, unto itself—you gotta sorta look at it and figure out how to use it in a way that is productive. That was the thing for me," she says.
"I knew that growing up ... I didn't see a lot of people that reflected or represented me—whether it was my skin tone, whether it was my size, whether it was my features, whether it was the way that I wore clothes or the choices that I make. And so, I was very deliberate about wanting to put out something that inspired, you know, the me's that are coming up behind me," Hinds says, reflecting on a relatively sheltered coming of age in Flatbush, Brooklyn.
"It was such a contained world, and I had such a limited sense of self and style. I was heavily influenced by television and magazines, but those things were limited to a certain aesthetic," she recalls. "So I just want to make sure that I am offering an alternative aesthetic; I am offering an alternative option on how to relate to fashion and clothing and hair choices and skincare ... all the things, so that someone looking through magazines or watching television doesn't feel like there's nobody who looks like them."
Her mission has paid off in countless feedback from followers who find her joyful, graceful and always fun content inspiring and empowering.
"That's all of what I try to do [with my social media]," she says. "It sort of speaks to self-worth—and making sure that that worth is defined only by my creator."
Tellingly, her handle is @AppleofHisAi. "That's really the only person I need to impress," she laughs.
But with an inevitable summer blockbuster on the horizon, no doubt Hinds is going to be making a lot more impressions; an opportunity she accepts with astounding humility.
"I think that everywhere I'm positioned, I'm positioned with purpose," she says. "I think there'll probably be a time in life when my cup will have to stop being filled up, and I'll have to start pouring out, and so I think that right now I'm in that position where I'm receiving these blessings, and I'm super grateful for it, and I look forward to being able to pour out for the generation behind me."
No doubt Hinds' grace will spread far and wide. But until then, to paraphrase her King of the Monsters co-star Jackson, this is Aisha's world; we just live in it.
And as her character responds: "Damn right."
Godzilla: King of the Monsters debuts in theaters today, Friday, May 31.