Forty years ago this month, Melvin Van Peebles' celluloid classic, Sweet Sweetback's Baadasssss Song, shook up the world of cinema, much as a brash young pugilist originally known as Cassius Clay had done in the boxing ring some seven years earlier. Van Peebles' independently produced film merged European modernism and the avant-garde with the urgent demands of black power to create a cinematic document that echoed sentiments similar to those being articulated in the urban streets of 1970s America.
Toheeb Jimoh Talks The Power, Acting With Toni Collette, & Ted Lasso on That's So Random
Though opening in only two theaters at the outset — one in Detroit and one in Atlanta — Sweetback went on to gross large sums of money compared with the initial cost of production, thus allowing Van Peebles to, among other things, reimburse Bill Cosby, who had graciously given the aspiring auteur a loan so that he could complete his ambitious film.
With no such thing as a marketing budget, Van Peebles released the film's Earth, Wind & Fire sound track before the film, and he would rely on the oral tradition, using strong word-of-mouth support, to help promote Sweetback to eager urban audiences. When the dust cleared, the film's success made Hollywood pay attention to the existence of an untapped audience. This set in motion a process that would give birth to a genre eventually referred to as "blaxploitation" going forward.
The critical reaction to Sweetback was varied. Lerone Bennett, executive editor of Ebony magazine, penned an article entitled "Emancipation Orgasm: Sweetback in Wonderland" that criticized the film for romanticizing ghetto life, for opening with the scene described as the "rape of a child by a 40-year-old prostitute" and for assuming that sexual prowess was synonymous with revolutionary actions. According to Bennett, "f—-ing will not set you free."
G/O Media may get a commission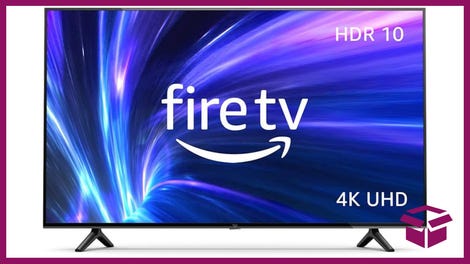 42% Off
Amazon Fire TV 50" 4K Smart TV
Yet Huey P. Newton, head of the Black Panther Party for Self Defense, wrote his own lengthy essay about the film in the Panthers' newspaper. Arguing that Sweetback was a cultural reflection of the same types of political ideas that the Panthers championed, he went on to suggest that the movie was the "first truly revolutionary black film." Sweetback would become required viewing for members of the Black Panther Party.
The marked differences of opinion about this film would initiate an ongoing cultural debate, often centered around positive and negative media images and black representation in general. This same debate, somewhat modified, lingers to this day in relation to hip-hop culture.
He's a Complicated Man
In July 1971, MGM released Shaft, and it was as though the independent spirit of Sweetback had now quickly spawned a more mainstream successor. Unlike Sweetback, which posited its hero (played by Van Peebles) as "the bad-ass nigger coming back to get some dues," Shaft featured Richard Roundtree as "the black private dick who's a sex machine to all the chicks."
In each case, the sexual prowess and protagonist's overall swag signaled the emergence of a new kind of black character, one who specialized in kickin' ass and takin' names! John Shaft, however, was equally at ease among cops and convicts, gangsters and revolutionaries. He was, after all, "the cat that won't cop out when there's danger all about."
The film was directed by Gordon Parks, a true Renaissance man if ever there was one. Parks was an acclaimed photographer for Vogue and Life magazines, an author and a filmmaker even before he directed Shaft. He would go on to write novels, compose classical music and choreograph ballet, in addition to directing the sequel to Shaft, Shaft's Big Score!, in 1972.
As with Sweetback, the sound track for Shaft would be an integral part of the film's identity, with Isaac Hayes going on to win best original song for "Theme From Shaft" at the 1972 Academy Awards, after a noted performance at that year's Oscars, wearing an unforgettable vest of chains over his bare chest. At the time, Hayes was only the third African American, after Hattie McDaniel and Sidney Poitier, to win an Academy Award. Parks' direction and Hayes' score combined to create a truly spectacular opening scene in which Shaft walks through New York City like the soulful conquering hero and erstwhile man about town that he is.
Tryin' to Get Over
The third component of the triple threat that made blaxploitation a reality was the 1972 release of the independently produced, Warner Bros.-distributed Super Fly, a film directed by Parks' son Gordon Parks Jr. Here the militancy of Sweetback and the swag of Shaft found its place in the character of Youngblood Priest, a Harlem cocaine dealer in an especially tricked-out "hog" (Cadillac El Dorado), who is intent on making one last deal before getting out of the game on top.
If it were only that easy! Supplemented by Curtis Mayfield's brilliant Greek chorus of a sound track, Super Fly forwarded a conscious existential dilemma that would showcase the dope dealer's plight in truly political terms. Yet despite the film's slept-on progressive politics, many came away simply absorbed in the ghetto-fabulous display of cars, clothes and cash.
Instead of prompting people to get out of the life as Priest had done, Super Fly often had the reverse effect, here serving as something of a recruiting tool for aspiring hustlers. Soon after Super Fly hit theaters, urban cats were donning perms and wearing coke spoons around their necks like their cinematic hero Priest. The lifestyle proved irresistible to many, and Hollywood was now ready to serve this newfound audience, much as Priest served his customers.
It was around this time that Junius Griffin, former film publicist and head of the Hollywood branch of the NAACP, would be credited with coining the controversial phrase "black exploitation" to describe these new cinematic offerings. In a polemic for the NAACP's Crisis magazine in May 1973, Griffin writes, "We must tell black and white movie producers that the transformation from the stereotyped Step n' Fetchit to super nigger on screen is just another form of cultural genocide." He goes on to say, "We must insist that our children are not constantly exposed to a steady diet of so-called black movies that glorify black males as pimps, dope pushers, gangsters, and super males with vast physical powers but no cognitive skills."
Pimpin' the Genre
Though the debates about the cultural merits of these films would continue unabated, more and more blaxploitation films would start to be released at a much faster clip. There would be subgenres of the larger genre. Following the popularity of Iceberg Slim's street novella Pimp, the silver screen would showcase pimp classics like The Mack (1973), Willie Dynamite (1974) and The Candy Tangerine Man (1975).
Pam Grier's Coffy (1973) and Foxy Brown (1974), along with Tamara Dobson's Cleopatra Jones (1973), would foreground the powerful women of the era, who merged sexuality with an Angela Davis-like consciousness in bringing down all manner of evil. Movies like Blacula (1972); the sequel, Scream Blacula Scream (1973); and J.D.'s Revenge (1976) would link blackness to the horror film, while other titles, like Mandingo (1975) and Drum (1976), would serve as blaxploitation's revisionist history of slavery.
Jamaa Fanaka's Penitentiary (1979) took the genre to prison. Blue comedian Rudy Ray Moore turned his bawdy oral toasts into hilarious cinematic gems of the lowest order with films like Dolemite (1975), The Human Tornado (1976) and Petey Wheatstraw (1977).
One of the biggest surprises of the era was the release and subsequent disappearance of Ivan Dixon's film The Spook Who Sat by the Door (1973). The film features a black protagonist who, after being selected for the CIA, learns its methods of covert warfare and then uses those methods to start a revolution in the streets of Chicago.
Originally released as one of the many blaxploitation films of the mid-1970s, The Spook quickly disappeared from theaters, causing many to suspect that government forces had pulled the film from theaters because of its incendiary political nature. After all, there has long been a racist assumption, going back to the days of Jack Johnson's fight films, that black people were unable to distinguish fact from fiction and could be manipulated into imitating what they saw on-screen.
Fade to Black
Though blaxploitation began as something potentially empowering, the genre, with Hollywood's mercenary involvement, eventually became a series of repetitive images, devoid of any political substance. Schlock like The Black Six (1973) — starring NFL stars Gene Washington, Mean Joe Greene, Willie Lanier, Mercury Morris, Carl Eller and Lem Barney — which billed itself as "Six times tougher than Shaft! Six times rougher than Super Fly!" was a laughable motorcycle-gang film that could be said to typify the genre at its worst.
At a certain point, blaxploitation films began to decline in both substance and number. Hollywood had regained its footing after some financial struggles in the early part of the decade. With the release of films like Steven Spielberg's Jaws (1975) and George Lucas' Star Wars (1977), Hollywood had discovered new revenue streams and no longer needed the chump-change profits that came from making low-budget black movies that had played so well in urban areas.
Richard Pryor, arguably the greatest stand-up comedian of all time, had made several scene-stealing turns in films like The Mack (1973), Uptown Saturday Night (1974) and Car Wash (1976). But by the late '70s, he was a star in his own right, and his move into mainstream movie stardom seemed to signal that black representation in Hollywood was now poised to go to the next level.
This promise was short-lived, however, since Pryor was never able to capture the energy that had typified his performances before he went mainstream. The R-rated Pryor of the '70s seemed to give way to a more gentrified PG version in the '80s, now that he had made the transition to mainstream Hollywood. By the time Pryor was going mainstream, the genre known as blaxploitation had gone dark.
The Rebirth of a Genre
Ultimately, the merits of blaxploitation would be judged by the way future generations responded to the genre. Would blaxploitation live a second life, or was it doomed to be swept away in the ash pile of '70s history?
Well, by the late '80s, rappers began appropriating the personas of various blaxploitation characters and sampling dialogue from famous scenes in their music. With a strong boost from hip-hop, the celebrated sound tracks of the blaxploitation era would start to be sampled regularly and then re-released on compact disc.
By the early '90s, a new generation of black filmmakers would be referencing the blaxploitation era with films like New Jack City (1991) and Dead Presidents (1995), telling their own contemporary urban cinematic tales. Quentin Tarantino, Hollywood's most celebrated new auteur from the '90s, would devote significant screen time to various blaxploitation themes in films like Reservoir Dogs (1992), Pulp Fiction (1994) and, especially, his homage to the era, Jackie Brown (1997), which starred blaxploitation's looming female icon, Pam Grier.
Blaxploitation has been so significant over the years that it birthed a second genre, one we might call the blaxploitation parody. Beginning with Keenen Ivory Wayan's I'm Gonna Git You Sucka (1988), and on to Undercover Brother (2002) and, most recently, Black Dynamite (2009), the comedy to be mined from blaxploitation's over-the-top style and off-the-chain attitude continues to produce laughs long after the original era has passed.
Some of the best examples of blaxploitation influence can be found in films like John Singleton's remake of Shaft (2000) and in Mario Van Peebles' Baadasssss! (2004), a film that dramatizes his father Melvin's efforts in making Sweetback.
Passing the torch from one generation to the next allowed blaxploitation to live on long past what many thought was its expiration date. Though many want to dismiss blaxploitation, for all its strengths and flaws, this body of work still represents one of the most sustained periods of black cinematic production in Hollywood history. In 1971, few imagined that we would be talking about Sweetback and the era it influenced 40 years hence, but here we are, still reppin'. I suspect that someone will be doing the same 40 years from now. Can you dig it?
Todd Boyd, PhD is the Katherine and Frank Price Endowed Chair for the Study of Race and Popular Culture, and professor of critical studies, in the USC School of Cinematic Arts. He is the author of The Notorious Ph.D.'s Guide to the Super Fly '70s; his blog is Notorious Ph.D.