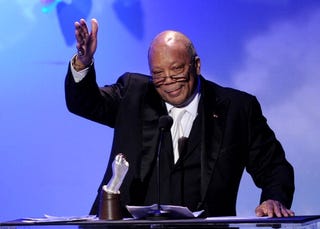 In this week's special edition of "The Spark," Amanda Diva chats with American cultural icon Quincy Jones. The two discuss everything from casting The Color Purple to T. Pain and the future of music in front of a live studio audience. Did you know that Tina Turner "played" Jones by pretending to be interested in The Color Purple in order to get next to Steven Spielberg? Apparently she wanted a role in Raiders of the Lost Ark and had no plans to star in a "black" film.
When asked about his love of non-black women, "Q" played it off by saying it wasn't true. The legend says, "It's about people being as beautiful on the inside as they are on the outside, smart and real." Sure, "Q," which is why you'd have to throw a search party to find Quincy Jones with a black woman.
Having said that, "Q" is still the man; neither his genius nor his swagger can be denied.

Check out video of his interviews with Amanda Diva at Black Voices.