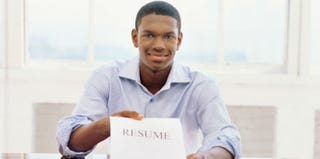 The November jobs report, released today, brought much better news than expected: The U.S. economy added 146,000 new jobs, and the employment rate dropped to 7.7 percent from last month's 7.9 percent.
The numbers for African-American unemployment, while still higher than the overall rate, also look hopeful, with unemployment down to 13.2 percent, from 14.3 percent in October. From BET News:
According to a report the Labor Department released Thursday, the number of people filing for unemployment insurance dropped by 25,000, but the four-week average increased slightly to 408,000. In Friday's job report, it said the economy added 146,000 jobs, fewer than October's hgh of 171,000.

The November figures also may have been muddied by the stalemate between President Obama and congressional Republicans …

Two consecutive months of steady job growth and an improving unemployment rate left many hoping that the signs were not flukes but a trend. Then, Superstorm Sandy struck, causing billions of dollars in damage, businesses to shutter — some temporarily, others forever — and people to lose jobs …
Read more at BET News.
Like The Root on Facebook. Follow us on Twitter.