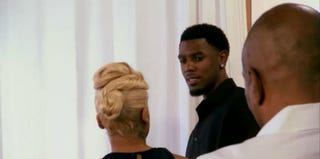 (The Root) — This week there's trouble in paradise for the newlyweds on Keyshia and Daniel: Family First. We knew this storm was coming, perhaps because we know Keyshia Cole and things have been too calm for too long. Well, too late to worry about it. How about we bunker down with some popcorn and watch the show?
Keyshia and Daniel: Family First (Tuesday, 10 p.m.; BET)
"I [don't] care more about any of this going on; I care about my wife." —Daniel
"Sometimes it's hard to have somebody who actually really, really loves you and really cares for you." —Keyshia
Highlights: Set to sweet R&B songs, Keyshia and Daniel's romance seems perfect. Well, guess what? It's not. Last week Keyshia met with a branding expert because she wants her image to change and grow, since she's changing and growing. They decided that she was too hood and should portray a family image by doing a photo shoot for the cover of Jet magazine. But she doesn't think she should portray herself as a family while she's arguing with Daniel, so she drags him to counseling.
Well, this week we hit the Jet shoot, and the two can't seem to get along. When Daniel jokes with Keyshia about using a brush on his hair, she gets mad and pops off. They took Keyshia out of the hood, but can they get the hood out of her?
Celeste Little is an editorial intern at The Root.
Like The Root on Facebook. Follow us on Twitter.