(The Root) — What do you get when you add a woman dressed as a man dressed as a woman, a dead hamster, a broken relationship and an up-and-coming rapper? Monday night in black TV. (Drops mic and walks away.)
Basketball Wives L.A. (Monday, 8 p.m. ET, VH1)
"I'm glad I was able to move forward and say it, and not let Jackie live rent-free in my brain." —Malaysia
"Draya's here! Draya's here!" —Laura
Highlights: So apparently, at some point last episode, Malaysia was mad at Jackie, but about 10 minutes into this week's episode, things are back to normal. According to M, the two have squashed the beef because apparently Jackie is just too nice to stay mad at.
G/O Media may get a commission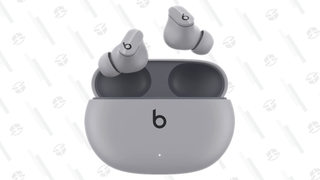 Laura, Jackie's maid of honor, takes her sweet time to get to the hotel where they're staying — she shows up just two hours before it's go time.  
Of course, since Malaysia and Bambi are the newest members of Team Jackie, they're pissed about this flaky, sneaky behavior and also that when asked, Laura said she wouldn't care if Jackie died. Don't most maids of honor act like this?
Fast forward to Jackie's wedding. Yay! It's the enormous mess we were all waiting for — the drinks are flowing, go-go dancers are shaking, Laura is dressed in drag and Jackie is all too happy to hike up her wedding dress to expose her glittery blue underwear and new, gay-pride tattoo to Doug.
But the best part of the wedding is that as soon as Doug and Jackie say their "I do again"s, Jackie hollers, "Clean slate!" Excuse us?
T.I. and Tiny: The Family Hustle (Monday, 9 p.m. ET, VH1)
"I don't play with poop." —T.I.
"Listen. I've had pet after pet after pet after pet. Ask me how many pets I've got now. Zero. You know why? Because they die. You know why? Because this is the pet cemetery." —T.I.
"There is a time to be born, there is a time to live and as we all see, Snowball, there is a time to die." —T.I.
Highlights: When Tiny hosts a food and clothing drive at her nail shop, a man offers to give her a puppy if she'll take a picture with him. This starts a pet craze in the Harris household. The kids do their best to show they're responsible — washing the car, cleaning the house. And eventually, after the funeral of their hamster, Snowball, Tip comes home with a "dog" — actually it's a rabbit, but who cares? It's a pet.
Chrissy & Mr. Jones (Monday, 9:30 p.m. ET; VH1)
"It's not legitimate leave. She's gonna call me for money sooner or later." —Jimmy
"I really wanted to drag Chrissy out that f—-ing hotel. Enough is enough. Take your ass back home. Work it out." —Mama Jones
Highlights: So Chrissy left home last episode, to everyone's surprise. Jimmy's been home eating chocolate-chip cookies and donuts, marinating, and Mama Jones says he needs to go get his woman when she comes over to cook. In the meantime, Chrissy's in Times Square with her girls, chilling at a nice hotel, until Mama Jones comes over to have a chat with her, and she even ends up getting emotional. This is a far cry from her "Psychotic B—ch" days.
Kendrick Lamar on Conan (Monday, 11 p.m. ET; TBS)
"I'ma drown in some poison abusing my limit/I think that I'm feeling the vibe/I see the love in her eyes/I see the feelin/The freedom is granted as soon as the damage of vodka arrive/This how you capitalize/ This is parental advice." —Kendrick Lamar
Highlights: Compton's back, and it's not the Game. This week, Kendrick Lamar has released the major label album co-signed by Dr. Dre that really has the quality to put the city back on the rap map. His good kid, mA.A.d city has most of the hip-hop intelligentsia praising it as a truly great rap record. He performs "Swimming Pools (Drank)" for our listening pleasure.
Watch his performance here.
Wu-Tang Clan on Late Night With Jimmy Fallon (Monday, 12:35 p.m. ET; NBC)
Highlights: In anticipation of RZA's directorial film debut in his The Man With the Iron Fists, he and members of the Wu-Tang Clan visited Fallon's studio Monday night to perform "Six Directions of Boxing," a song off the movie's soundtrack. They rocked it like the good ole days, as expected. Plus, we got to see Gerard Butler, Ghostface, RZA and Fallon play "Bubble Soccer" in the NBC hallway. Tune in to see what the new sport actually is. Can you guess which team won?
Celeste Little is an editorial intern at The Root.