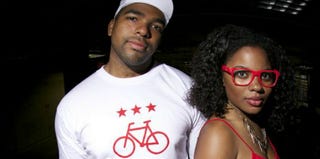 (The Root) — Are you black and interested in science, technology, engineering and mathematics? Then Blerds Night Out is for you. The seven-city tour, hosted by Blerdology, is making stops in major U.S. cities, hosting networking events that will focus on what black-owned STEM companies are doing in those communities.
Blerdology's founder, Kat Calvin, describes the event as "a big blerd party." The tour started in Orlando, Fla., on July 13, and Calvin said that it is already a success. "We just want to be a spark in each community we visit," she said.
Blerdology, which launched in February 2012, is a social enterprise designed to support, engage and grow the black STEM community.
Blerd's Night Out is on its way to Chicago, New York City, San Francisco and Atlanta. To learn more and register for a Blerd's Night Out near you, visit blerdology.co/bno.