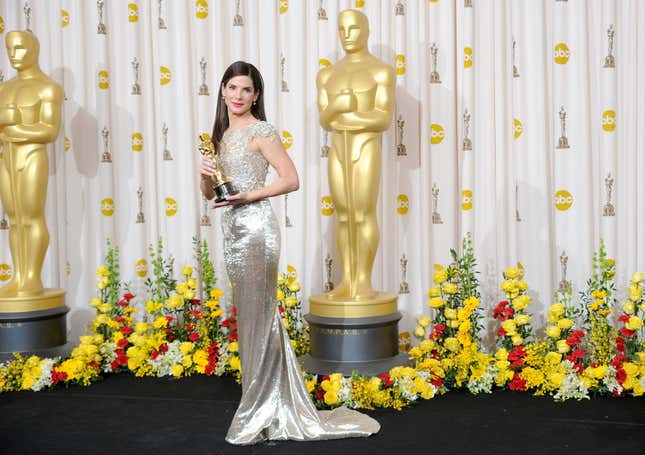 As the drama from the real-life subjects of "The Blind Side" continues to get messy, the actors from the movie are now starting to get involved.
Michael Oher On New Book, NFL, The Jets, Aaron Rodgers, Running Backs Contracts & He Sings!
We all know who Sandra Bullock is right? The super popular actor, who was awarded the Oscar for Best Actress, at the 2010 Academy Awards for her role in Blind Side.
Well, it seems that people want her to face some consequences for her portrayal in a movie that we're learning is not entirely accurate.
If you haven't heard, Michael Oher filed a 14-page petition in a Tennessee court claiming that Sean and Leigh Anne Touhy never adopted him and that they tricked him into signing a conservatorship document that allowed them to make business deals in his name.
Essentially, he's saying their "adoption" of him was BS and that he hasn't received any money from the movie while they've raked in millions.
Now, many people on social media are calling on Bullock to do the "right thing" and return her gold trophy.
But in the same breath, some are defending Bullock, saying she simply played a role in the movie and should not have to pay for the alleged actions of her real-life counterpart.
Even Quinton Aaron, the actor who played Michael Oher in the film, is calling on people to get off Bullock's back. He said in an interview with TMZ, "Sandra Bullock didn't have anything to do with the real story that we're reading as of right now."
He continued, "She gave a brilliant performance and that shouldn't be tarnished for something that had nothing to do with her."
As much as I hate the actions the Touhys are accused of allegedly doing, I couldn't agree with Aaron more. Bullock is simply an actor who played a role she was hired for. Nothing more, nothing less. She's not responsible for doing the research and looking up the validity of Oher's story.
First of all, she probably doesn't have the time and secondly, there was a whole book about it! She probably believed it.
Trust me, that movie is not something I'm here to defend, but I think people just want to find someone to blame. Blame the real Sean and Leigh Anne Touhy, not the actors who played them.