Has anyone else moved homes lately? If so, you might relate to the concept of seeing red—which may or may not have inspired today's red and pink eye. But honestly: this look was inspired by YouTube beauty star Jackie Aina, who consistently wows me with her ability to pull off red and pink eyeshadow looks without looking like she has conjunctivitis. When I received my order of Crayon Case's Matte Book Palette ($25), I was instantly drawn to their red and pink shades, and since I've been consistently red-eyed and sleepless these days (because packing is an endless time suck), I figured there was no time like the present.

Honestly, I can't say enough amazing things about this palette; it has me playing with colors in a way I haven't in years! Whether you're a beginner or an expert, these pigments are the truth. I did the math; for $0.96 per shade you get color, contour, and wet-to-dry pigment. I am officially in lurve.
And apparently, Crayon Case knows I'm getting paid on Friday because the whole site will be 40% off. Of course, now I need a backup Matte Book, just in case I drop the first one. (Save me from myself; this new rent ain't no joke.)
Granted, I don't have much more to say right now, because my yet-to-be-packed boxes are calling me. But real talk? In spite of the stress, this has been a fun month—so fun that we're going to keep the party going with BIG BEAUTY TUESDAYS!!! If that sounds like "Big Booty Tuesdays," it's intentional; I like big butts, and I cannot lie. Starting next Tuesday, I'll be reviewing even more black-owned beauty, with a special emphasis on black female entrepreneurs to start, since March is Women's History Month!
G/O Media may get a commission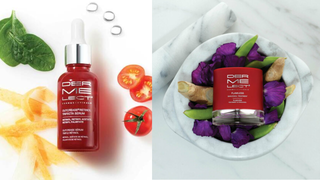 Save $19
Retinol Renewal Kit
But first, I pack—because this black-owned beauty won't pack itself. I'll be back—with my picks for the month!