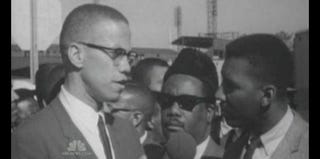 On Thursday, Bob Teague, one of the first black broadcast journalists in New York City, died in New Brunswick, N.J. He had been fighting lymphoma, and he was 84, reports the Daily News.
A football star and military veteran turned newspaperman and finally TV reporter and anchorman, Teague was a fixture for years on WNBC/Ch. 4 and also made regular appearances on the national NBC network …

Over the years, Teague later said, he became increasingly disillusioned with the mainstream media, particularly TV news.

In his 1982 book "Live and Off Color," he mixed appalling and amusing behind-the-scenes anecdotes with his broader concern that TV news was selling entertainment rather than delivering information.

His narrative in the book, much of it personal, portrayed television journalism slowly and not always successfully being wrenched from the hands of a small group of white men less concerned with the truth than with an environment in which to efficiently sell orange juice …

Noting his background as a print reporter with the Milwaukee Journal and New York Times, Teague wrote that "television news, as it is today, is a sort of schizophrenic prostitute – not the honest kind of whore I can respect. Enormous swatches of television news are dumb, irrelevant, tasteless, and insulting to you as a viewer, to me as a reporter."
Read more at the Daily News.
Like The Root on Facebook. Follow us on Twitter.