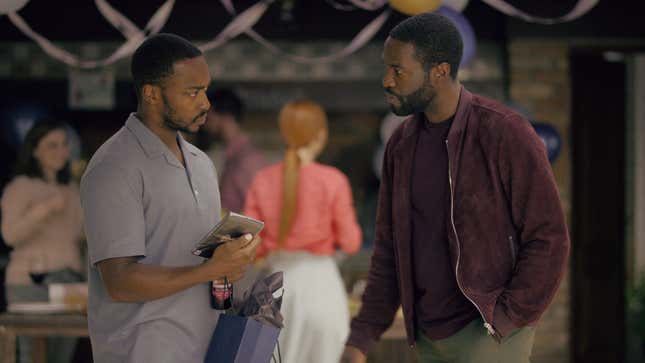 The last time we saw Black Mirror, they had us playing a Choose Your Own Adventure-esque game to watch it. But, this isn't a game. Black Mirror is returning for its fifth season—and we've got a trailer to prove it!
America's Got Talent Host, Terry Crews, Shows Full Gratitude For Writers On Strike
As Netflix's press release states about the popular tech-world series:
Black Mirror is an anthology series that taps into our collective unease with the modern world, with each stand-alone episode a sharp, suspenseful tale exploring themes of contemporary techno-paranoia leading to an unforgettable – and sometimes unsettling – conclusion. Without questioning it, technology has transformed all aspects of our lives; in every home; on every desk; in every palm - a plasma screen; a monitor; a Smartphone – a Black Mirror reflecting our 21st Century existence back at us. The series is created and written by Charlie Brooker, and executive produced by Brooker and Annabel Jones.
In the upcoming fifth season's trailer, Black Mirror will explore the effects of celebrity, the desire for validation, and more. "Three new stories," says the caption on the promo. Three?! Oh, you Brits with your extra short seasons.
One particular storyline that stands out involves Anthony Mackie (Avengers: Endgame), Yahya Abdul-Mateen II (Us), and Nicole Beharie (Sleepy Hollow).
In the trailer, Beharie's seemingly exasperated voiceover muses about her "boring" family life as we see Mackie's character scrolling through what looks to be pictures of a social media model. Perhaps an Instagram honey! Or maybe an ex? Either way, it's clear he's not supposed to be looking at her pics, because once Abdul-Mateen's character shows him another picture of the woman, he quickly diverts attention when Beharie's character walks in.
Yeah, that's clearly his wife.
"What is it? Is it me?" Beharie asks in the next frame. Oh hell. Mackie is playing a fuckboy, ain't he?
The new season will also star Miley Cyrus, Topher Grace, Damson Idris, Andrew Scott, Pom Klementieff, Angourie Rice, Madison Davenport and Ludi Lin.
Black Mirror, Season 5, drops on Netflix Wednesday, June 5.