Editor's note: This is part 1 of the four-part series Keeping Black Men Healthy, in honor of National Minority Health Month. Read part 2 here.
If you notice that you and your male sexual partner have started butting heads as bedtime draws near, it may be because he's struggling to perform sexually but doesn't want you to know it.
"Some men," says clinical psychologist Gail Wyatt, a sex therapist and professor at UCLA, "know that they are having problems, so they find a reason or excuse not to have sex. They may start fighting, arguing, complaining, or not doing what their partner expected them to do at bedtime or close to bedtime. That causes them to sleep separately or not speak to each other—whatever it is, it's not conducive to having sex."
And, consciously or not, that might be exactly the point.
Roughly 18 million American men experience erectile dysfunction, or ED, defined as the inability to attain or sustain an erection for satisfactory sexual intercourse, and typically measured over a three-month period. ED is not a natural consequence of aging; however, it becomes increasingly prevalent with age, with approximately 40 percent of 40-year-old men and 70 percent of 70-year-old men reporting that they experience the condition. African-American men are more likely than men of other races to experience ED.
G/O Media may get a commission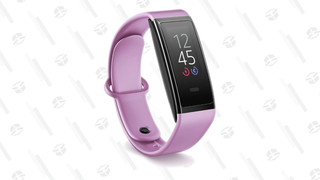 44% Off
Amazon Halo View Fitness Tracker
"Men are coming in younger and younger," says Dr. Gerald Hoke, chief of urology at New York's Harlem Hospital. "They used to start coming in during their late 40s and 50s. Now more men are coming in during their late 30s and early 40s."
A few men even experience problems in their early to mid-20s.
ED's underlying causes include cardiovascular disease—high blood pressure, high cholesterol and clogged blood vessels, for example—diabetes, depression, smoking, alcohol use, obesity, mental illness and psychological distress.
A Sign of the Times?
The symptoms of ED can vary. "Either their erection is not firm enough for penetration to happen, or they're struggling to get an erection, keep an erection, and then may ejaculate too soon to allow themselves or their partners to experience enough pleasure so that they may become orgasmic," Wyatt says.
Since the ability to have a lasting hard erection lies at the core of many men's identity, challenges to their ability to perform can challenge a man's sense of self, and the struggle can lead to relationship problems, including bickering at bedtime.
"It may look like the other person started the fight, not them, but the man intentionally provoked his partner" to avoid sex, Wyatt says.
She notes that men's partners often have unrealistic expectations, pressuring the man to perform on demand or wanting him to get an erection and get it over with—to "do his job" as a man. Contrary to stereotypes, though, men's bodies don't work that way.
"Conversation is very important," says Wyatt. "You have to assess whether your partner can meet your needs under the circumstances that they—not you—are living in."
A sex therapist—an expert who helps treat sex problems that have no underlying medical cause—can help.
Amazed at Improvement
There are several levels of ED treatment. The first includes lifestyle modifications and optimizing a man's general health.
For men who smoke, it's important to stop.
"Either choose cigarettes or choose sex; you can't have them both," Hoke says. Men who begin smoking during their teens typically experience sexual-performance problems by their late 30s or early 40s.
Eating fewer fatty foods; shedding a few pounds; going speed walking for half an hour four times a week; and avoiding alcohol, weed and other controlled substances before sex can improve sexual performance.
"You'd be amazed at how much improvement you get with weight loss and exercise," Hoke says.
Making these changes not only can improve a man's overall health but also can keep prescription ED drugs from breaking the bank. Most cost $25-$30 per pill, and health insurers typically don't cover them.
A Barometer of His Health
In addition to lifestyle modifications, have a physician conduct a thorough physical evaluation that includes examining blood pressure, blood sugar and cholesterol.    
"The penis is a barometer of a man's overall vasculature," says Hoke. "Think of impotence like a heart attack of the penis. Basically you're not getting enough blood flow into the penis, and the endothelial cells [which line the blood vessels] are not operating properly. If that's happening in the penis, it's probably happening in your heart, brain and major blood vessels."
An early diagnosis can head off a health catastrophe later.
Even if a primary physician writes a prescription for Viagra, Cialis or Levitra, a man should also obtain a referral to a urologist, an expert in matters concerning the urinary tract and male reproductive organs. The urologist will try to unearth the root cause by asking about a man's lifestyle, the circumstances under which he experiences sexual difficulties, the quality of his relationship, his own health history, his family health history and so on.
The doc will also talk to the man about how he believes he should perform.
"Many men have unreasonable expectations," Hoke says. "A 44-year-old guy whose main complaint is that he can't get it up an hour later? That's par for the course; that's not ED."
Other men have untreated mental-health issues or are under psychological duress.
"Between ages 40 and 50, a lot of people amass their wealth," says Wyatt. "This can create the perfect storm of late hours, irregular eating, no time to exercise, the development of a paunch, along with the down drift of hormones—which requires that sex take more time. You need to slow down to enjoy sex. In our highly industrialized society, men cannot expect that their bodies will be able to work for them all through their lives consistently."
The urologist will conduct a physical examination, too.
"Very often men think that they're healthy, but we find often out that their blood pressure, blood sugar or cholesterol might be a little high," Hoke says.
Other men have a health problem, which, if controlled, can improve their sexual performance. An enlarged prostate and some urinary symptoms are also linked to ED, as is depression. And low testosterone can affect a man's libido and erection.
As Important as Toothpaste
The doctor may prescribe Viagra, Cialis, Levitra or a new drug, Stendra, which claims to act in 30 minutes.
"Viagra, Cialis and Levitra are almost as important as toothpaste for a lot of men," Wyatt says.
If the medicine doesn't work the first time, a man shouldn't give up. Hoke recommends trying at least five times and even switching to a different brand. All four of the drugs can cause headaches, and each brand has its own peculiar adverse effects. For example, Viagra can cause blue vision, and Cialis can cause muscle and back pain.
Even though so-called ED treatments on the street and Internet may cost less than $5 per pill, it's impossible to know what's in them, so they should be avoided.
Particularly as a man gets older, ED meds may not work. Second-tier treatment includes penile injection therapy or a urethral suppository and vacuum constriction devices, which pull blood into the penis.
The third-tier treatment is a penile implant, the most invasive but gratifying treatment. "It has a satisfaction rate of 95 percent, and partner satisfaction is in the same ballpark," Hoke says. "Don't start there, but don't eliminate it as an option."
Philadelphia-based writer Hilary Beard is co-author of Promises Kept: Raising Black Boys to Succeed in School and in Life and Health First! The Black Woman's Wellness Guide, which won a 2013 NAACP Image Award. Follow her on Twitter and Facebook.
Like The Root on Facebook. Follow us on Twitter.
Philadelphia-based writer Hilary Beard is co-author of Promises Kept: Raising Black Boys to Succeed in School and in Life and Health First! The Black Woman's Wellness Guide, both of which have won an NAACP Image Award. Follow her on Twitter and Facebook.