There is allegedly a right in the U.S. criminal justice system ... the right to use deadly force to protect one's property or to prevent death or bodily harm to one's person. It is called self-defense. However, this plea usually only works for those of the Caucasian persuasion.

There are statistics that bear this out; hell, we can just compare the cases of Marissa Alexander, a black woman, to George Zimmerman, a white-presenting man, both in Florida, to see how it usually goes down.

But every once in a blue, the pendulum of justice swings our way (instead of knocking us down) and this is what happened when 31-year-old Stephen Jamal Spencer of was acquitted of all charges in the shooting death of 32-year-old Christopher Williams outside of a bar last year.

Now this being America, Spencer was jailed for more than a year at the Luzerne County Correctional Center as he awaiting trial; the state put forth its best efforts to keep him locked away.
G/O Media may get a commission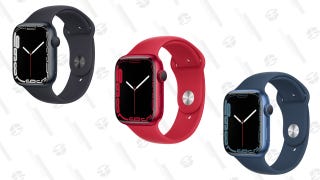 Up To $45 Off
Apple Watch Series 7
The AP reports that Spencer was charged with homicide, aggravated assault and terroristic threats after a confrontation outside the Saints and Sinners Irish Pub in Pittston, Pa., in July 2017. The deadly dust-up allegedly began after a white patron in the bar refused to shake Spencer's hand (because he was black), after a dispute over a game of pool.
Spencer had testified that he fired in self-defense as a group of would-be attackers came at him outside. His attorney said that the group was moving menacingly toward Spencer and called him a "nigger."

One of the prosecutors argued that the "offensive" hand-shake refusal had nothing to do with the killing. Another, Tom Hogans, said during closing arguments that Spencer had the opportunity — and the duty — to retreat rather than pull his gun.
"Shooting an unarmed man on a street when you can retreat is not self-defense," Hogans said. "He intentionally shot him in a vital part of his body."
Defense attorney John Pike, however, had another perspective: He painted Spencer as a hard-working family man and homeowner who ran his own business and had a valid concealed carry permit for the gun. He also had no criminal record.
Pike argued that Spencer was defending himself after enduring a night of racial taunting, including the fact that a white man refused to touch him because he was black.
The Philadelphia Tribune reports that that night, Spencer arrived at the bar with his neighbor Henry Gift, who is white.

As the two were leaving the bar, Gift said he was attacked from behind by two people. He said he was sure the attack was racially motivated because he "was with a Black guy at a bar."

He said his own beating only stopped when he heard the (one) gunshot Spencer fired from up ahead on the sidewalk.

"What's going to trigger a racist? A Black man in their white bar. Fueled by alcohol," Spencer's attorney said.
"In his mind, he was terrified and did what he had to do in those few seconds," Pike said.
The lawyer also noted that Spencer fired only one shot and stopped when the threat stopped.

Spencer said Friday, "I was fighting for my life for 15 months and I finally made it. Justice was served."

His lawyer crowed that the jury saw the confrontation for what it was: "ugly racism"

Jurors deliberated for four hours Friday before acquitting Spencer; and, after 453 days in jail, he walked away a free man.