Part of being a mother is accepting that you have to be a list of things your children are in constant need of: a counselor, a doctor, a cheerleader, a coach, a manager, a Band-Aid ... the list goes on. The job is endless and often, thankless. But a mother's job is often not just being a mother.
According to the U.S. Department of Labor, 70 percent of mothers with children under 18 are employed full time. Add to that the intersection of being a black mother. Now you're faced with new fears, like raising black children in a society that deems them dangerous or a threat.

To be a black mother is to be a million places at once. Your to-do list is endless when you're black, a woman and a mom. Making sure your children have all their basic needs met, with a little sugar on top, that's the motherly way. There are a select few who make it look easy, but it's not. For real, I asked.
I wrangled a group of the sweetest black working mamas: Claws star Niecy Nash, WBLS radio personality Shaila Scott, celebrity doula Latham Thomas, PR agent-momager-host Koshie Mills, blogger-entrepreneur Christina Brown, and mommy-to-be and author-entrepreneur Devi Brown to share their WTF moments, revelations, joys and fears of being black mothers.
The Root: You learn a lot about a person when you get them to describe themselves. Most mothers start with that label. I asked each of you to share with me who you are and what you do. Did most of you start with the mother title?
G/O Media may get a commission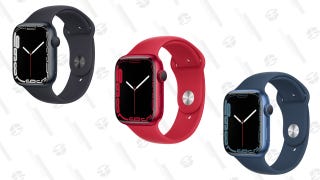 Up To $45 Off
Apple Watch Series 7
Koshie Mills: I'm everything [Laughs.], but I am a wife extraordinaire, the mother of three wonderful sons: Kwame Boateng, Kofi Siriboe and Kwesi Boakye. (Yes, that Kofi.) I started my own PR marketing firm and now television series executive producer, creator (The Diaspora Dialogues) and host.
Latham Thomas: I am the mother of a 14-year-old boy. I support women at the threshold of change in their lives. I founded Mama Glow, a company grounded in maternal health and supporting women before, during and after pregnancy. I am a birth doula, author, mindfulness practitioner and educator.

Christina Brown: I am the founder of LoveBrownSugar. I'm a digital influencer, marketing strategist, a mother of two and a champion for Black Girl Magic.

TR: Tell me about your growth and change as a person because you became a mother.
Niecy Nash: [Laughing.] You know what? I think I found out that I'm [a] much better mother to older children. I don't know if it's because I'm older or because they're older. But I look back on it now and I'm like, "My God, I started having babies so young," and I was winging it. I was freaked out. You know I couldn't believe that they would ... actually let me leave the hospital with this baby. I'm 21 years old.
And they don't come with instructions. You have to figure it out. I didn't have the option to not be a working mother. So I always had to figure out very early on what that would look like. In the beginning, I would have to take all three of my kids to audition and put them in the corner and set it up like a little preschool: "You get the graham crackers; give her to baba; take your coloring book out. And when I go in that door, don't talk to nobody."
LT: Motherhood is so interesting because part of your ego dissolves the moment you meet this new life that was growing within you. The person who you once were is no longer there; someone new emerges. I have grown tremendously in the past 14 years of motherhood. The birth of my son helped me to ground myself in my purpose.
Becoming a single mom when my son was 3 also taught me a lot about resilience and the power of ingenuity. The pressure of providing for a small child catapulted me into action. The universe rewards courage, and when [I] took the leap to launch my business, doors that were closed suddenly opened. I learned to trust my path and have faith.

TR: Tell me about a time when your career was challenged by your motherhood or vice versa?

CB: Honestly? Every single day. I started my business just a few months prior to getting pregnant with my daughter, so I have always navigated life as an entrepreneur from the lens of motherhood. As a mompreneur, I'm constantly balancing priorities. Do I take this phone call with a client right now, or do I nurse my crying baby? Do I embark on that business trip or stay home with my 4-year-old who has a fever? It's a constant juggle and not easy. But I make the important decisions based off of my priorities. On the top of my list is always family.

TR: What made you decide to be a mom?
Devi Brown: I am at a place in my womanhood and in my growth as a human that I really know who I am, and I'm excited to add this new layer of who I will become to my purpose.
I think for us the timing was definitely right in this moment. I've never necessarily dreamed of being a mother. Growing up, that wasn't my thought, getting married and having kids. I wasn't against it, but it just wasn't something that was at the forefront of my mind.
I think for me I always know that part of my destiny was to take on the role of parent, but I wasn't committed to what that looked like. Whether that meant I was able to bear a child myself, adopt or take on foster kids, or just take on a lot of mentees, I knew that I was meant to share love and share insight and share growth, but that wasn't committed to me saying, "I have to birth my own child."
TR: What are your fears around raising black children in America, especially raising sons?

NN: I have a black son and a stepson, who are both the same age, they're both 26, and they have been raised at a time in history to be able to have their own voice, to be able to question authority, to be able to state what is right, what is wrong, but that is also the same thing that could get them killed. Proclaiming ... your rights is the very thing that could have you not come home at the end of the day.
But you have to have the conversation: You may have been disrespected. The officer may have approached you and been totally out of order. You comply and live to tell the story. Don't not come home trying to prove a point.

Shaila Scott: My fear is that I'm not saying enough to him to get him to understand the climate that we're in because although we see, we read, we know these stories, it's happening constantly. It doesn't seem like it's slowing down at all. We have such a feeling of invincibility that you don't think that you're penetrating, that you're getting the message across that this could happen to you.

TR: Advice for mothers who work?
CB: You can do it. Do not be afraid to ask for help. Be unapologetic about calling in reinforcements when you need them. If you're choosing a career, it's as much about your family's financial stability as it is about your personal legacy and fulfillment. Don't feel guilty about that. Just know that it can be done, but not in a vacuum. You need and deserve help, so take it anywhere you can.
NN: Know the difference between a call on your life and a hobby. Those are two totally different things, and the way you approach them is going to be different. And my advice would be, find a way. If God has called you to it, there is always a way. It doesn't necessarily mean that the way is going to come easy, that you won't be tired, that it won't cost you something, that it's not going to come without pain or struggle. There's a way; it's just a matter of if you want to do it.
KM: My biggest advice, especially moms in the entertainment business, is as much as you make it about your children, be sure to find your peace and your solace and your business. I've seen so many moms sizzle and fizzle because they made everything about their kids, forgot about themselves, and when the kids grow up and they are not a part of the business anymore because whatever happens, then they're struggling because now you have to go back 15-20 years to a career that you left behind for your child. I devised a career for myself within the entity that I so loved and created for my son. My biggest advice: Don't lose you in the process.