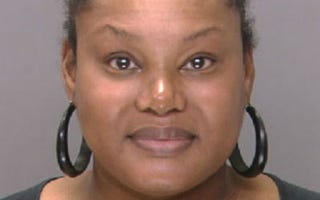 If this entire story isn't enough to keep everyone as far away as possible from butt injections — whether giving or receiving them — we don't know what is. Padge Windslowe, a 42-year-old Philadelphia woman who calls herself "the Black Madam," has been charged with third-degree murder for her role in the death of Claudia Aderotimi, who died after undergoing the cosmetic procedure.
Windslowe was arrested at a "pumping party" at a Philadelphia home in February, more than a year after Aderotimi's death, NBC reports:
Police say Aderotimi, 20, flew from London to Philadelphia with three friends to get the injections. She received the injections in Feb. 7, 2011, at a Hampton Inn in Southwest Philadelphia, according to police. Aderotimi complained of chest pain and difficulty breathing following the procedure and died a few days later at a Delaware County Hospital.

One of Aderotimi's friends, Theresa Gyamfi, said she had received a similar injection from the same woman in November 2010.

Gyamfi identified Padge Windslowe as the woman who injected both of them.

The woman whose injuries led to Windslowe's initial arrest said she spent two weeks in the hospital with severe respiratory problems, The Associated Press reported. A doctor who testified at a hearing in May said silicone particles had migrated to the woman's lungs.

Windslowe also bills herself as a musical artist who uses "Black Madam" as a stage name, the AP said.
Read more at NBC News.