Last week the National Rifle Association reposted a controversial propaganda video disguised as a recruitment ad that takes aim at the Black Lives Matter movement and uses lies in order to whip its supporters into a frenzy and encourage them to take up arms to protect themselves from a supposed enemy. Friday, a Black Lives Matter chapter in Los Angeles shot back with a video of its own.
In the video response shared with Mic, the group features families of victims of police brutality on-screen and accuses the NRA of issuing "a public call to their constituents inciting violence against people who are constitutionally fighting for their lives."
"We don't take that lightly. We know that we are not safe, but we are not scared, either," Funmilola Fagbamila, a member of Black Lives Matter L.A., says in the video.
The first minute of BLM L.A.'s video appears to be a direct parody of the NRA's one-minute video in which spokeswoman Dana Loesch accuses an unnamed "they" of using "their media to assassinate real news," using "their schools to teach their children that their president is another Hitler," and using "their movie stars and singers and comedy shows and award shows to repeat their narrative over and over again."
"And then they use their ex-president," Loesch says, in a not-so-veiled reference to Barack Obama, "to endorse the resistance, all to make them march. Make them protest. Make them scream racism and sexism and xenophobia and homophobia, to smash windows, burn cars, shut down interstates and airports, bully and terrorize the law-abiding—until the only option left is for the police to do their jobs and stop the madness."
G/O Media may get a commission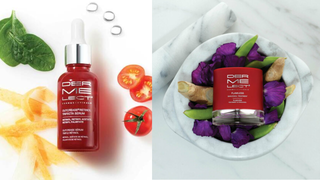 Save $19
Retinol Renewal Kit
Yes, the NRA hinted that shooting protesters or otherwise hindering people from exercising their First Amendment rights is the job of the police.
In the BLM L.A. video, Fagbamila counters by saying, "We will continue to produce media, teach students, march and protest to not only protect the First Amendment as fiercely as the NRA protects the Second, but to protect our lives from gun-toting racists."
Fagbamila concludes her comments with a demand that "the NRA immediately remove their dangerous propaganda videos, narrated by conservative talk radio hosts Dana Loesch and Grant Stinchfield."
This is followed by images of the family members of Keith Bursey, who was killed by the Los Angeles police; Charleena Lyles, who was killed by Seattle police; and Kisha Michael, who was killed by Inglewood police. There is then a call to action, encouraging supporters to contact the NRA directly and demand that they take down the videos.
---
The NRA is disgusting for taking the fight for Black Lives and using it as a dog whistle to get their people worked up and up in arms. Salute to Black Lives Matter L.A. for directly speaking out against it.

Painting Black Lives Matter as a violent, racist movement is one of the laziest attacks ever, but it is also the most pervasive, because the people who support the NRA find that to be a much easier pill to swallow than admitting their own inherent and most times blatant racism against black people.
It cannot be said enough that Black Lives Matter is not an attack against anyone else; it is simply a reminder (and obviously a painful one for white people) that black humanity is still disregarded in this country.
Read more at Mic.