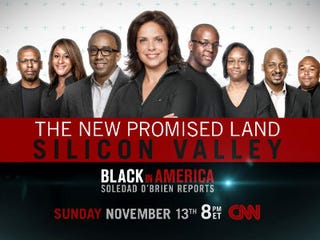 In the fourth year of the network's Black in America special, CNN will follow eight African-American entrepreneurs immersed in the predominantly young, white, male world of Silicon Valley. The previews alone have people talking about the racial dynamics of the "promised land" for entrepreneurs — a Twitter debate broke out after a screening of the special when blogger-turned-investor Michael Arrington suggested that he would accept almost any black entrepreneur, regardless of merit. Something tells us that won't be the last of the heated discussions about race, technology and success that are set off by the program. Tune in so you can weigh in.
"The New Promised Land: Inside Silicon Valley" airs Sunday night at 8 p.m. ET/PT.
Check out the trailer here:
Read more at CNN.
In other news: Should Rihanna's Popularity Surprise Us?