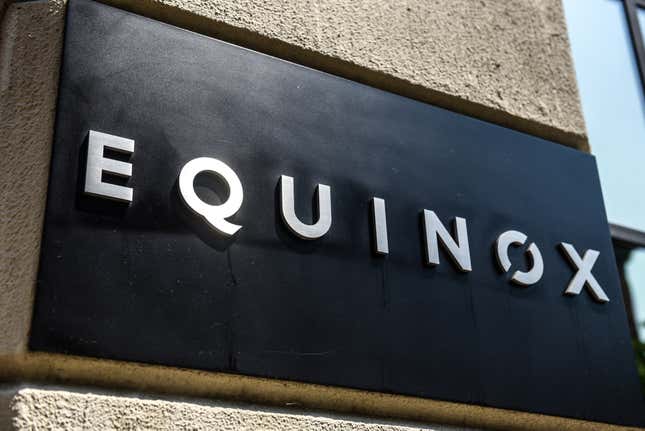 New York City fitness professional Röbynn Europe worked at an Equinox gym on Manhattan's Upper East Side for less than a year. But she claims her time there was so stressful that it affected her health. And when she was ultimately fired, she argued it had nothing to do with her performance.
Equinox claims they fired Europe for being late 47 times in 10 months. But Europe called B.S., saying racism and sexism ultimately led to her termination. She took her complaint to court, filing a lawsuit with a Manhattan federal judge, claiming the gym was a hostile work environment and that her firing had more to do with her race and gender than her attendance record.
Europe claims that a white male manager who reported to her took issue with her authority and, on several occasions, made offensive comments about Black women's bodies and employees of color at the gym. According to The New York Times, Europe claims the environment was so stressful that "the bulimia she struggled with for much of her life worsened" and "she eventually had to enter an inpatient treatment program for eating disorders."
And on May 16, the jury of five women and three men awarded Europe $11.25 million in damages – $10 million in punitive damages and $1.25 million for distress. Ms. Europe will also receive $16,000 in back pay.
Equinox is standing by its claim that they did nothing wrong, arguing that an investigation found no evidence of discrimination based on race or sex. Instead, they believe the jury "seemingly was guided by sympathy and emotion."
The gym has filed a motion to have the case reevaluated, not because they don't believe the worker made racist and sexist comments, but because they weren't enough to create a hostile work environment for Europe or to justify the amount of the settlement.
"She has not produced any evidence she was treated less well or that her employment was terminated because of her race or sex," Equinox said.
In a statement, Europe's attorney, Susan Crumiller, expressed her satisfaction that justice was served.
"The jury sent a loud message to Equinox that there are serious consequences for corporations that permit racist and sexist behavior in the workplace. We are also pleased that the jury found Equinox's racism had a severe and lasting impact on Röbynn's mental health and that she deserved to be compensated for it. Let this be a warning to all businesses in New York that if you try to brush harassment and discrimination under the rug, you will not get away with it," she said.