By now, the word is out that Spike Lee went off Brooklyn-style at his Sundance screening of Red Hook Summer. But did you know that later that night, he partied at Tao with Chris Rock, Cuba Gooding Jr., Nate Parker, Common and Drake (at separate tables, of course)? Welcome to the black side of the Sundance Film Festival in Park City, Utah.
Lee joked that he had doubled the black population in town with his premiere. But with Sundance on the radar of more African Americans each year, he really couldn't lay claim to that feat.
The film festival actually offered a full slate of movies that would fall into the black category if there were one. In fact, the feature that won Sundance's Grand Jury Prize for drama, Beasts of the Southern Wild, was one of the favorites at the festival. The film, the story of a poor 6-year-old girl living with her father in the South, was bought by Fox Searchlight. The film that won the Grand Jury Prize for best documentary, The House I Live In, is about how the war on drugs disproportionately affects the black prison population.
Also for the first time, a black woman, Ava DuVernay, won the Sundance directing award for her film Middle of Nowhere. The movie is about a woman's separation from her incarcerated husband. DuVernay will release the film through Participant Media and AFFRM (pronounced "affirm"), the African Film Festival Releasing Movement, an organization she founded.
Last year DuVernay called Sundance "Blackdance" because there were no fewer than 30 black films shown. While this year there weren't as many, the director says quantity should not come before quality. "I am not keeping track in terms of a report card. I am keeping track in terms of seeing if they are diversifying that cinematic voice, and I think they achieved that this year."
G/O Media may get a commission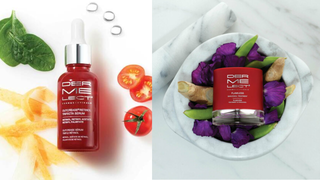 Save $19
Retinol Renewal Kit
There was a full spectrum of voices, from the vets and legends to the newcomers, including Terence Nance with An Oversimplification of Her Beauty and Sheldon Candis with Luv. Candis called his Sundance experience "a dream come true" and said "it was nothing short of amazing." Candis' film, which he wrote and directed, is a coming-of-age story set in Baltimore that transcends race. It just happens to have a black all-star cast including Common, Danny Glover, Dennis Haysbert, Charles S. Dutton, Lonette McKee, Michael K. Williams and Meagan Good.
Common was philosophical about all the blacks in attendance. "Hey, this is America; we mean a lot to this world and this country, and to Sundance we should mean a lot, too. It's great to see our presence and to see the artistic expression that we are providing and just to be here with the flavor that we have." Common, who steps up his acting game with this movie, said he hopes to get a chance to play Marvin Gaye at some point in his career.
"I just thought it was a good script. I didn't think black, white; I didn't think any of that," Rock said. He said he enjoyed playing the part and wants to do more movies and hopes to do a stand-up tour soon.
Another big player at Sundance this year when it came to the African-American scene was the Blackhouse Foundation. The nonprofit organization, devoted to expanding opportunities for black filmmakers, made its presence known by taking over a restaurant on Main Street, renaming it the Blackhouse and hosting a series of events, panels and parties. Some of the events included a gospel brunch, a talk with Ice-T and a dinner with Bevy Smith honoring Jesse Williams and Rashida Jones, whose parents, Peggy Lipton and Quincy Jones, were also there.
Rashida Jones starred in, co-wrote and produced Celeste and Jesse Forever, which sold to Sony Pictures Classics. Quincy Jones may be her biggest fan, but it turns out he's also a fan of Drake, whose 1 a.m. concert he attended at Bing Bar. "I love Drake, are you kidding? It's either good or bad and he's the best. He's got a mind, too."
Sundance is as much about seeing films as it is about making the social scene and picking up swag from the gifting suites. There's always an open bar somewhere and free food to be had.
Unfortunately for Tracy Morgan, his trip was interrupted when he fell ill at a Creative Coalition awards ceremony and had to be rushed to the hospital. On his Twitter feed he wrote, "Superman ran into a little kryptonite. The high altitude in Utah shook up this kid from Brooklyn." The best accessory to have at Sundance, and one seen in every filmgoer's bag, was a bottle of H2O. Water helps the body adjust to the high altitude.
Morgan was at Sundance to promote his new movie, Predisposed, in which he plays a drug dealer. Many of the black male roles this year were men on the wrong side of the law or the wrong side of luck. Nate Parker did double duty playing that kind of character in both Arbitrage, opposite Richard Gere, and in Red Hook Summer.
There is an interesting scene in Lee's movie that sums up what some consider the limited options for black male actors in Hollywood. Lee shows a poster for a fake movie called Fat, Black and Crazy. It shows a man dressed as a middle-aged, heavyset woman, with the tagline "coming to theaters."
Julie Walker is a New York-based freelance journalist. Follow her on Twitter.