Buttoned Up
Beyoncé's Feminist Anthem "Run the World (Girls)" A Decade Later
During the turn of the 20th century, women wore conservative, high-necked dresses, tight corsets and necklines with ruffles or bows. This photo shows a group of officers from a women's league in Newport, R.I., in 1899.
Suited Up
G/O Media may get a commission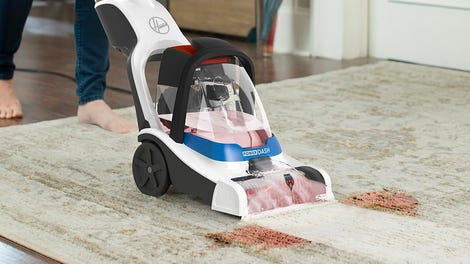 26% Off
Hoover PowerDash Pet Compact Carpet Cleaner
Zoot suits, which became popular in the 1930s and '40s, consisted of high-waisted, wide-legged pants with a long dress jacket. Although these 1940s gentleman are sporting a more subdued style, they're rocking the signature watch chain that was a must-have zoot suit accessory.
Bandannas
In this 1943 photo, a woman operates a hand drill while working on a plane in Tennessee; her bright red nail polish and ring complete the look. Bandannas, such as the one this real-life Rosie the Riveter is wearing, have been used for both form and fashion for decades.
Supremely Stylish
In the 1960s the Supremes, led by Diana Ross, brought matching glamorous gowns, heavy eyelashes and sleek hair to the stage, solidifying them as a class act.
Feathered, Feminine Fashion
In this 1961 portrait, actress Leslie Uggams poses wearing long white gloves and a dress trimmed with ostrich plumes; feathers were a popular embellishment on dresses.
Animal Attraction
Although these days, wearing fur will get PETA on your tail, from the early 1900s up until the present day, fur keeps reappearing as a symbol of elegance, class and wealth. In this 1970 photo, a model walks the runway in a "fun fur."
Hippy Chic
Jimi Hendrix's unique fashion sense brought bell-bottoms, bandleader jackets and fringe not just to the music scene but also to the streets. Fringe on bags, vests and jackets started popping up in stores during the late 1960s. In this 1971 street photo on the left from the Washington Post archives, the caption reads, "Millard Arnold and his 'constant companion,' " referring to the almost-leg-length fringed bag on his hip. The undated photo on the right shows one of Hendrix's attention-grabbing fashion looks.
Shady Lady
In this 1972 photo, a student in Washington, D.C., wears a long-sleeved patterned dress and head wrap with mod sunglasses, a chic accessory popularized by Jacqueline Onassis in the 1960s that is still popular in 2012.
Hats Off
From the early 1900s on up until 2009, when Aretha Franklin wore the infamous bow hat at Barack Obama's inauguration, hats have come in all sizes and shapes, making them a fashion classic — and a major statement. The portrait on the left is just one example from 1900 of extravagant hat fashion.
Workout Wear
From the mid- to late 1980s, aerobics fashion was in. Leotards, crop tops and knee-high socks became popular just as fitness home videos hit the market. The photo on the left, from 1987, was taken during a Crystal Light fitness competition in Alexandria, Va. On the right, a YWCA fitness instructor leads a "Slimnastics" class in 1983.
A Thrilling Pop Star's Style
Many of Michael Jackson's looks, including his penchant for wearing military-inspired jackets on and off the stage, made him a fashion icon. The rhinestone-studded white glove he first wore in 1983 when he debuted the moonwalk also became his trademark fashion accessory. The late King of Pop's glove was recently enshrined in cement in front of Grauman's Chinese Theatre in Hollywood, Calif.
Cosby Sweaters
Love them or hate them, the patterned sweaters worn by Bill Cosby on The Cosby Show had a major moment in the 1980s and beyond. In 2011 Drake appeared in his video for "Headlines" wearing a trademark Cliff Huxtable sweater.
Powerful Women's Wear
Women's power suits became popular around the mid-1980s, ushering in the age of the shoulder pad and cropped jackets. Checkered patterns and stripes followed. In the 1986 photo on the left, models walk the runway wearing Bill Blass patterned suits. On the right, a model wears a look by Nina Hyde for the Princess Grace Foundation fashion show in 1984 in Washington, D.C.
Wearing a Message
This fashion staple has stuck around through the Great Depression, when T-shirts were first worn as undershirts and issued to military servicemen. In the latter part of the 20th century, T's became a way to protest, send messages or show your political affiliations. In this 1993 photo, a woman wears her boyfriend's "I'll Be Back" T-shirt, a T that popped up around the time Mike Tyson went to prison in 1991.
High Fashion
In the 1990s, supermodel Naomi Campbell walked the runways and inspired countless budding fashionistas. Here, she showed off a miniskirt in a 1990 spring fashion show in New York.
Hammer Pants
Rapper MC Hammer popularized this spin on harem pants in the 1980s and '90s.
Flawless Elegance
While elegant clothes have always been in fashion, first lady Michelle Obama has put a spotlight on fashion in a way that few others in her position have. Her fashion highlight? The white gown by budding designer Jason Wu that she wore during her husband's inaugural ball in 2009. The dress marked the start of a trend for the first lady, who has continued to wear new designers' fashions.
Check out The Root's coverage from New York Fashion Week.