Local black leaders in Fresno, Calif., aren't happy that a white man is going to be teaching African-American studies, Latino studies and Southeast Asian studies to students at the soon-to-open Rutherford B. Gaston Middle School, the Fresno Bee reports.
The middle school, named in honor of Fresno's first black principal, is scheduled to open in the upcoming weeks and, according to the Daily Caller, is the first such school in the local area since the late 1970s.
But local activists, including pastors and other community leaders, are not happy that Peter Beck, who is white, was selected to teach the cultural-studies courses.
"We're just saying what the community wants. We didn't fight for a white male or female teacher to educate our babies," the Rev. Karen Crozier, who is reportedly leading a small group of concerned residents, told the Bee. "We still are at these racial fault lines, and we want someone who will be able to think critically about those racial fault lines and how do we help heal, to restore the problems that have existed."
Crozier told the news site that officials were looking into hiring a teacher of color, but in the end, Beck won out.
G/O Media may get a commission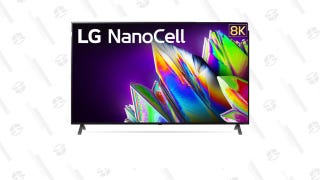 LG 75-Inch 8K TV
Another pastor, the Rev. Paul McCoy, thought Beck was qualified for the job and "highly intelligent," according to the Bee, but told the teacher that "it's not about him."
"We're all faced today with so much dysfunction and violence from young people, and that violence is simply because they don't know who they are, they don't know where they come from," McCoy added, pointing out that cultural studies help students understand where they come from. "They don't know the responsibility and accountability it takes to become a vital citizen in this country."
A spokeswoman for the Fresno Unified School District, Micheline Golden, insisted that Beck was the best person for the job and refused to give details about others who interviewed for the job.
"We are always looking at the best, most experienced, most qualified who can provide the best education for our young people," Golden told the news site, citing Beck's 10-year experience in teaching courses in Latino studies, as well as his two years teaching African-American courses.
"I do not believe colorism trumps qualifications," District Trustee Call Johnson told the Bee in support of Beck. "I don't care whether it's white, whether it's black, brown or yellow."
Read more at the Fresno Bee and the Daily Caller.