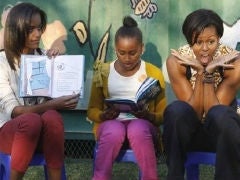 Jimi Hendrix-park designs to be unveiled: Three concepts for a park named in honor of the Seattle native and rock star were unveiled at a workshop Thursday evening at the city's Northwest African American Museum.
Obama's power grab: Slate's legal eagles discuss the president's rejection of the War Powers Act and the biggest Supreme Court decision of the year.
HBCU leaders discuss their futures: About 100 presidents of historically black colleges are meeting in Atlanta this week to discuss their role in Obama's call for America to have the highest proportion of college graduates in the world by 2020, as well as the financial threats to HBCUs.
Obama girls were in media spotlight in South Africa: The first lady made an exception for this landmark trip, and reporters weren't asked to keep their distance.
In other news: VIDEO: Herman Cain Responds to Jon Stewart's Stereotyped Black Dialect.
Like The Root on Facebook. Follow us on Twitter.