When Coach Mike Tomlin leads his Pittsburgh Steelers on the field Sunday evening for Super Bowl XLIII, he will be the third African American to coach in the big game in two years. In 2007, two black coaches, Tony Dungy of the Indianapolis Colts and Lovie Smith of the Chicago Bears, led their teams into Super Bowl XLI.
Earlier this decade, the NFL struggled with the diversity issue on the sidelines. Although a hefty percentage of NFL players are black, the head coaching ranks were as white as your average suburban country club. The recent success of Dungy, Smith and Tomlin augurs change. The back story of how Tomlin got his job fortifies that sense. Still, the lack of leading assistant coaches may imperil this recent spate of progress.
Tomlin was hired by the Steelers two years ago after a two-week round of interviews. He was an outside candidate for the position. There were two front-runners inside the organization, assistant coaches Ken Whisenhunt and Russ Grimm. But Steelers owner Dan Rooney is chairman of the NFL Committee on Workplace Diversity, and in 2002 he instituted what's widely called "the Rooney Rule" mandating that teams interview minority candidates for head coaching vacancies. Tomlin received a fair hearing and won the job. Ironically, Whisenhunt and Grimm left Pittsburgh and took positions with the Arizona Cardinals, the Steelers' opponent on Sunday. Few Steelers can argue with Tomlin's track record; he took over a team that had gone 8-8 in the 2006 season and led them to 24 wins in 35 games and two trips to the playoffs.
The Rooney Rule appears to be working. At present, there are six African-American head coaches, Tomlin, Smith, Jim Caldwell (Dungy's successor in Indianapolis), Raheem Morris of the Tampa Bay Buccaneers, Marvin Lewis of the Cincinnati Bengals and Mike Singletary of the San Francisco 49ers. And other black coaches are still in the mix. Dungy retired a few weeks ago, Herm Edwards of the Kansas City Chiefs and Romeo Crennel of the Cleveland Browns were fired in recent weeks after poor showings this season. They may not be out of work for long; coaching in the NFL is an insular profession. Due to three midseason changes, 35 men were head coaches of the NFL teams this season and a third of them were in their second go round at the helm. In 2002, when Rooney created his rule, there were only two African-American coaches, Dungy and Edwards, and many observers felt that teams were overlooking Lewis, a top assistant coach, due to race.
It's undeniable that there has been progress since the Rooney Rule was adopted, but the bigger question is whether that progress is sustainable. Right now, the prognosis isn't good.
G/O Media may get a commission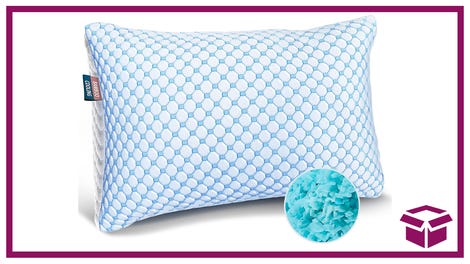 23% off
Nestl Cooling Pillow - Queen Size
All NFL head coaches are either former head coaches or highly regarded lead assistants, typically offensive or defensive coordinators, which is usually the lead rank among assistant coaches. Thirty of the 32 teams have settled their coaching situations for 2009 (there are unresolved vacancies in Oakland and Kansas City), and of those 30 head coaches, 28 of them rose from the coordinator rank. The pretty picture of growing diversity isn't as nice at that level. There are 60 coordinators at present, and only nine of them are of African-American descent. Nine out of 60 isn't a good percentage, and it looks even worse for the pool of future black head coaches in the NFL when you consider that not every coordinator aspires to be a head coach.
It seems that the Rooney Rule will probably help Leslie Frazier—Minnesota Vikings' defensive coordinator and the man who took Tomlin's previous job—get a head coaching job soon, and a former coordinator, Hue Jackson, currently QB coach for the Baltimore Ravens will likely get a long look at some upcoming vacant head coaching jobs, but what is needed is more action at the coordinator level. Most NFL teams employ a committee of 10 or 12 assistant coaches. Every single coaching staff is remarkably diverse, full of former players who teach and men whose bodies weren't up to football rigors but whose minds are adept at it. The Rooney Rule has enabled the NFL to address the diversity issue at the most visible position of authority, but it needs to look deeper. At the coordinator level, one step down from head coach, it might as well be 2002 all over again.
Of course, any serious discussion of a possible looming diversity crisis will have to wait until after Sunday's game. Right now the more immediate question is: How will the third black coach to lead a team into the Super Bowl fare? The game is a quandary in many ways. On the one hand, it pits a great defense (Pittsburgh) against an awesome offense (Arizona), and typically the defensive stalwart wins those battles. On the other hand, good coaches often beat their former teams since they know how to anticipate their opponent's moves. This was particularly true in the 2002 Super Bowl when Tampa Bay throttled Oakland. The Bucs, led by Jon Gruden, looked as if they knew every play in the Raider playbook.
Last season, Whisenhunt's mediocre Arizona team beat Tomlin's playoff-bound Steelers 21-14. Tomlin seems to learn from his mistakes very well, and I suspect his strategic acumen will be the difference in a close Steelers win.

Martin Johnson is a regular contributor to The Root.
Martin Johnson writes about music for the Wall Street Journal, basketball for Slate and beer for Eater, and he blogs at both the Joy of Cheese and Rotations. Follow him on Twitter.