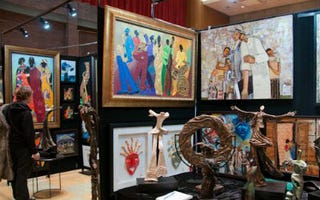 (The Root) — Join us from Thursday, Aug. 9, to Sunday, Aug. 12, as The Root hosts the 2012 Harlem Fine Arts Show. This year, the black arts festival heads north to Martha's Vineyard to showcase some of the best in contemporary and modern art from the African Diaspora.
The Harlem Fine Arts Show is the first African-American arts event to come to the island destination, bringing with it a wide array of artistic mastery that examines the world from a truly black and African perspective.
For more information on the Harlem Fine Arts Show, and to register for the event, visit the show's website.
Date: Thursday, Aug. 9, to Sunday, Aug. 12
Location: Hooked Restaurant and Island Inn, 11 Island Inn Rd., Oak Bluffs, Mass., 02557
Previous recommendation: Vuitton and Yasiin Bey Honor 'The Greatest'
Got ideas for The Root Recommends? Send them to recommendations@theroot.com.