After being offered the chance of a lifetime to perform in front of 100 million viewers, some of the music industry's biggest stars, including Cardi B, Andre 3000, and Usher, have reportedly responded to offers to perform at halftime of Super Bowl by telling the National Football League: "Nah, bruh. I'm good."
The NFL reportedly tapped the alabaster quintuplet, Maroon 5, to play the halftime show in this year's big game, set for February 3 in Atlanta's Mercedes Benz Stadium.
That's right. The brilliant minds at NFL headquarters asked the whitest group since the Oak Ridge Boys to headline the biggest event in the city whose music scene is this generation's version of Motown. When the Super Bowl was in Minnesota, no one petitioned for the Ying Yang Twins to headline the halftime performance. We were cool with Justin Timberlake performing his "Man in the Woods" bullshit. But Maroon 5? In Atlanta?
According to Variety, Maroon 5 has approached Cardi B, Mary J Blige, and Andre 3000, who have all declined the offer to perform for free as second billing to the musical equivalent of a mayonnaise milkshake. Other names like Usher and Nicki Minaj are reportedly in the mix. Organizers have also also reportedly approached Lauryn Hill, who will probably have to be told she is performing during the pregame show if they want her chakras to align by halftime.
G/O Media may get a commission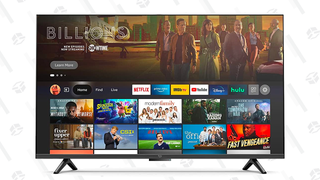 22% off
Amazon Fire TV - 50" Omni Series 4K - Early Access Deal
Rihanna already reportedly turned down the offer to show solidarity with Colin Kaepernick, although it must be noted that every other photo shows Rihanna chilling on a far-away beach with a blunt in her hand looking unbothered. Why would the Fenty mogul give that up to play sidekick to a Cloroxed version of Mint Condition?
Jay-Z reportedly turned down the same offer last year, leading many to speculate that his lack of interest was also in support of Kaepernick. He addressed the rumor in "Apeshit," when he rapped in the duet with some lady named Beyoncé:
I said no to the Super Bowl: you need me, I don't need you.
Every night we in the endzone, tell the NFL we in stadiums too.
I don't want to downplay the popularity or the appeal of Maroon 5. They are considered the most popular band of the 21st Century, which is a pretty big deal, even though we aren't even 20 percent done with this century. The burgundy boys are perfectly fine, even though Adam Levine is now considered to be trash since he threw a black artist under the bus on The Voice last week. (I would explain the entire episode in detail if I watched The Voice.)
If the NFL had scheduled Maroon 5 to play in one of the NFL's whiter cities, it would have been OK. Isn't there something in Green Bay they could sing at? Perhaps they could become the official band of the New England Patriots. Scheduling Maroon 5 in the A-T-L is just disrespectful.
Asking Maroon 5 to perform in Atlanta is like going to Beyonce's house and telling her to turn off "Lemonade" because you wanted to listen to the unreleased Taylor Swift album titled: "Room Temperature La Croix."
But since The Root is all about solutions, we have some suggestions for artists that might agree to appear with Maroon 5 at the Super Bowl:
Jaquees: He might be willing to do it for his royal subject since he's the King of R&B.
Chrisette Michelle: She has proven she is willing to cross over into white territory and "build bridges." I promise she won't kneel.
Tekashi69: The NFL has proven they don't care about criminal pasts, so he's perfect.
R. Kelly: Again, you're used to paying someone who abused women on video. You should be fine.
Earth Wind and Dolezal: It's a cover band that only plays white covers of black songs, including Taylor Swift's cover of "September" and this acoustic cover of Cardi B's "Bodak Yellow:"
All jokes aside, no one is wondering why black artists don't care about performing for the NFL.
After all, by banning Colin Kaepernick, the NFL has proven it doesn't give a damn about black lives.