Buy From Black Artisans
African-American handicraft traditions in the United States are rich and complex, influenced by African, Native American and European cultures. Here are 10 skilled black artisans who produce beautiful, high-quality goods — from furniture to knives to baskets — for everyday use. All handmade, all based in tradition and all made with love. Buy a basket, commission a pot or take a class to support black artisans this holiday season.
Quintin Middleton: Bladesmithing
Fancy a 9-inch Santoku blade with a winewood handle? Middleton has you covered. Based in South Carolina and primarily self-taught, he opened Middleton Made Knives in 2003, and his work quickly caught the attention of renowned chefs such as Homaro Cantu of Chicago's Moto. Middleton's knives are made to specification from high-carbon steel and a variety of handle materials. Contact: middletonmadeknives.com.
Winton and Rosa Eugene: Pottery
G/O Media may get a commission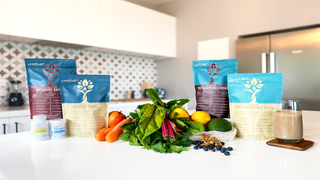 The couple's work in clay started with a search to find an artistic hobby. They stumbled on pottery, and after demand for their clay creations increased, it became a passion and a career. Now, at their home and studio in rural South Carolina, Winton throws pots and decorates them with nature paintings, etchings and carvings inspired by themes of identity and culture, while Rosa creates elegant coil pots and mixes the custom glazes. Contact: 864-463-4217.
Jerome Bias: Woodworking
Bias has been making furniture since 2007. What makes his work so special? He re-creates 17th- and 18th-century Southern furniture using tools and techniques from those time periods. Bias says that he makes furniture "to honor African-American craftsmen — free and enslaved — who created such wonderful works of beauty." Bias' work and craft are on display at the Old Salem Museum and Gardens in Winston-Salem, N.C., where he works as a historical interpreter."
Contact: jeromebiasfurniture
maker.com.
Kweli Kitwana: Textiles
Kitwana's intention for her textile business is simple: to create fabrics that reflect and affirm the richness and complexity of African-American culture. That goal achieved, Kitwana says that her work has become "more a movement and less a business." From whimsical designs of collard greens with ham hocks and onions to reflective ones dealing with the Underground Railroad or the Middle Passage, Kitwana's work is imbued with her love and reverence for the beauty, joy and pain that make up African-American culture. Contact: africanamericanfabrics.com.
Neal Thomas: Basketry
Thomas is a master craftsman who has been making baskets for more than 40 years. In the forest near his home in North Carolina, instinct leads him to his trees. He cuts them down, makes his splints and weaves using both traditional basket-design techniques and techniques he developed. Thomas also canes chairs, sells his baskets and teaches classes and workshops wherever there is a request. "This generation now don't believe in messing with handmade stuff," he says of his craft. "It's not easy, you know. It's hard work." Contact: blackartisansproject@
rootscuisine.org.
Kiandra Johnson Jimenez: Quilting and Leathercraft
"Not every message blends with every medium," Johnson Jimenez says of her work. She creates leather handbags as "positive baggage" with positive affirmations for women. Quilting, which she does on commission, is even more personal — "ancestral," in her words — an expression of love spiritually linking Johnson Jimenez to three generations of female quilters who came before her in her family. As a faculty member of the folk art division at the University of California, Riverside Extension school, she also teaches quilting classes. Contact: quejimenez.com.
Berea College: Handicrafts
Founded in 1855 and nestled in Southern Appalachia just outside Lexington, Ky., Berea College was the first integrated, coeducational college in the South. Even more unique is the school's labor program, which has an important component focusing on traditional craft knowledge. Students learn woodworking, broomcraft, jewelry making, weaving and ceramics and produce goods that are sold to help support the school's commitment to offering tuition-free education to a primarily low-income student body. Handicrafts are demonstrated by students and sold at the school's Log House Craft Gallery. Tours of the handicraft studios are also available. Contact: bereacollegecrafts.com.
Michael Smalls: Basketry
Sweetgrass basketry is the quintessential Gullah handicraft, and one of Smalls' main goals is to preserve the tradition. Smalls creates traditional designs of items such as fanner baskets, which were used to hull rice during slavery and continue to be used for that purpose in western Africa. His work has been exhibited at the Smithsonian, and his skill and commitment to weaving have garnered support from the South Carolina Arts Commission. He teaches classes and sells his own work at the Hilton Head Island-Bluffton Chamber
of Commerce. Contact: tetratravelagency@
gmail.com.
African-American Quilt Circle of Durham: Quilting
The AAQC, a group consisting of more than 30 craftswomen, artists and teachers, was founded in 1998 as a way to promote and preserve African-American quilting traditions. Members make quilts to introduce the craft to the general public and to further promote quilting as a mode of artistic expression. The group hosts workshops and quilt exhibits at the Hayti Heritage Center in Durham, N.C. Contact: aaqcofdurham@gmail.com; 919-408-7140.
Joseph 'Ronnie' Pringle and Carlton Simmons: Blacksmithing
For Pringle and Simmons, blacksmithing just runs in the family. They are the cousin and nephew, respectively, of the late master blacksmith Philip Simmons. Both men learned their craft from the elder Simmons, who learned from a former slave. Today Pringle and Simmons proudly carry on that long legacy, making decorative trivets and wall hangings and functional pieces such as ornamented iron gates, fences and window grates. They also teach workshops and sell their goods out of their shop in South Carolina. Contact: Simmons Blacksmith Shop, 30½ Black St., Charleston, SC 29413.