(The Root) — Last week a Cheerios commercial featuring an interracial family generated such a strong racist reaction on YouTube that the comments section had to be closed. The video had received more than 1,600 likes and more than 500 dislikes, as well as references to Nazis, "troglodytes" and "racial genocide."
Of course, that reaction generated its own reaction from nonbigoted Americans that's pretty much summed up by "Is this seriously happening in 2013?" 
On Tuesday we heard from the child at the center of the fictional family — actress Grace Colbert.  While the rest of the country went nuts over the spot, she and her parents (a real-life interracial couple) seemingly took the surrounding controversy in stride. In an interview with Thomas Roberts on MSNBC Tuesday morning, Colbert said the commercial was "very fun to make." 
Asked whether the racist reactions forced the family to have "sensitive" conversations about identity, father Christopher responded, "Not really. I inquired to my daughter about it, and she thought the attention was because she had a great smile.
"Being a part of a blended, biracial family, it's just a reality," he added. "We're also part of the face of America. America needs to see this is just a way of life. I wasn't upset or anything … this is just reality."
G/O Media may get a commission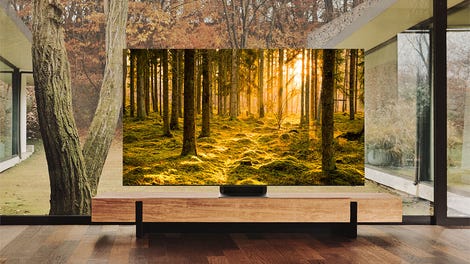 Up to 40% off
Samsung Smart TVs
Has the attention to that reality led to other acting opportunities? Yes, said Grace, whose parents confirmed that she has had several auditions since the spot aired. "Lots."
Like The Root on Facebook. Follow us on Twitter.