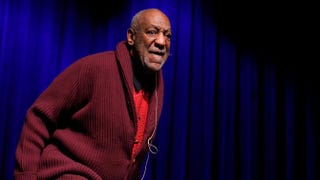 You thought Bill Cosby was out of the limelight for good, but for some stars, retirement just isn't an option—and it looks like it'll be that way for this legend.
It's been 30 years since his last concert special, but now he's back with Bill Cosby: Far From Finished, a 90-minute stand-up show that will air on Comedy Central on Nov. 23, the Associated Press reports.
Why now?
"There's a gap," Cosby said during an interview this week, "between people knowing what I do and really believing that I still do that—and wondering what it is I really do."
At 76, the veteran entertainer's career includes records, books, films and social advocacy, but he would rather be onstage, it would seem.
"I take a bow. I grab the mic, and I begin to put it on. And we're in show business! It is wonderful, and I just enjoy it!" he said.
Still, Cosby insists he doesn't tell jokes, but stories.
"Because I believe you can do things that joke tellers can't do, and that is, bring your audience along," he explained.
Read more at NewsOne.