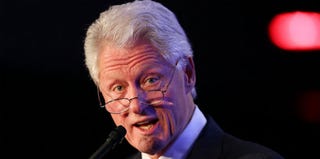 Former President Bill Clinton will deliver the May commencement address at Howard University, one of the nation's oldest HBCUs.
More fodder for the old "first black president" joke? Perhaps. But university President Sidney Ribeau said that Clinton was invited because his example as a leader, humanitarian and advocate and his commitment to public service will inspire the class of 2013, the Washington Post reports: 
In the school's announcement, Howard officials said Clinton presided over the strongest economy in a generation. The school also noted that since leaving the White House, Clinton has worked on global health and environmental issues and to strengthen economies through the William J. Clinton Foundation.
Read more at the Washington Post.