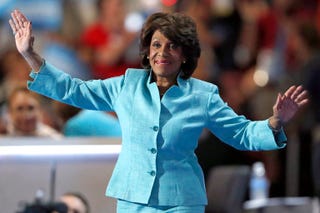 Rep. Maxine Waters (D-Calif.), 78, is small of stature but commands attention whenever she strides into a room. Her gaze is direct and inquisitive, with flashes of steely resolve serving as a clear reminder not to take her kindness for weakness.

"Auntie Maxine," the term of endearment that millennials have lovingly bestowed upon her, is amusingly accurate. You recognize this black woman because at some point in your life, you have been loved by a black woman who looks just like her. The black women who lovingly cleaned your scrapes and bruises, went to war on your behalf, but did not hesitate to get you all the way together when necessary.

Waters is experiencing a season of political pop-culture relevance, and it is easy to tell that the veteran educator, community organizer and politician is loving every moment of it. Her appreciation for her newfound national status is contagious. In an MSNBC interview with Waters, Joy-Ann Reid talked about Waters' "one-woman resistance to the normalization of Donald Trump," and it is a role that the congresswoman from California's 43rd District takes extremely seriously.

"People in the coal-mine country who believed Trump, I want them to listen to who he is and what he's doing and how he lies every single day," Waters said to me as we sat across from each other Saturday afternoon in a conference room at Morehouse School of Medicine in Atlanta.

"They need to evaluate who they're going to vote for in the next presidential election based on everything they've learned about what they shouldn't do," Waters said between sips of hot tea.
The dynamic congresswoman was there to keynote the Drug Policy Alliance's Not One Step Back strategy session, a community-building gathering not only to raise awareness about the war on drugs but also to hammer out ways to effectively fight Trump's regime—which includes Confederacy and Ku Klux Klan sympathizer U.S. Attorney General Jefferson Beauregard Sessions III. Of course, Sessions and his supporters angrily claim that he fought to take down the KKK, but observers at the time—and common sense—say otherwise.
But Waters' resistance receipts go back so much further than this current administration.
No conversation about the political landscape of South Central Los Angeles is complete without talking about Maxine Moore Waters.
The most senior of the 12 black women currently serving in Congress and the former chair of the Congressional Black Caucus, Waters was first elected to the California Assembly in 1976, where she served for 14 years. She was then elected to be the U.S. representative for California's 29th Congressional District (Jan. 3, 1991-Jan. 3, 1993) before being redistricted to the 35th District (Jan. 3, 1993-Jan. 3, 2013). She ultimately landed in the 43th District in 2013.

In short, Waters is an OG in the political arena, and her fierce resistance to white supremacy goes much deeper and broader than Donald Trump.

In 1986, after a brutal seven-year battle, it was Waters who successfully led the state of California in the divestment of $8.3 billion of the state's pension funds from any companies doing business in apartheid South Africa.

In 1992, as Los Angeles erupted with revolutionary rage after LAPD officers beat Rodney King and got away with it, white mainstream media and politicians called it a "riot." It was Waters who said that social and economic conditions stemming from injustice sparked the uprising: "[Riots] sounds like it was just a bunch of crazy people who went out and did bad things for no reason. I maintain it was somewhat understandable, if not acceptable. So I call it a rebellion."

In 1994, Waters was one of only 12 out of 39 members of the Congressional Black Caucus to vote against then-President Bill Clinton's crime bill, which, as I've reported previously, was authored by then-Sen. Joe Biden (D-Del.) and voted on by Sen. Bernie Sanders (I-Vt).
After the San Jose Mercury News' Gary Webb exposed the clandestine connection between President Ronald Reagan, the CIA and Nicaragua's Contras—and how that "dark alliance" funneled guns and drugs into L.A.'s black and brown communities—it was Waters and Sen. Barbara Boxer (D-Calif.) who demanded a full federal investigation.
"It doesn't matter whether [the CIA] delivered the kilo of cocaine themselves or turned their back on it to let somebody else do it," Waters said in 1997. "They're guilty just the same."

Webb was later found with two bullets through his brain—an unlikely "suicide"—but Waters' fight to expose and eradicate the war on drugs, which targets black and brown communities, continues to this day, as evidenced by her presence at the Drug Policy Alliance strategy session.

In 1998, Republican leadership slipped through a bill to extradite freedom fighter Assata Shakur from Cuba, where she had sought political asylum—and remains today. Waters mistakenly supported this bill because Shakur was listed not by her chosen name but by her former name, Joanne Chesimard. Once Waters realized this deception, she penned a letter to then-Cuban President Fidel Castro explaining what happened and clarifying her position:

I oppose this measure is because I respect the right of Assata Shakur to seek political asylum. Assata Shakur has maintained that she was persecuted as a result of her political beliefs and political affiliations.

[...]

In a sad and shameful chapter of our history, during the 1960s and 1970s, many civil rights, Black Power and other politically active groups were secretly targeted by the FBI for prosecution based on their political beliefs. The groups and individuals targeted included Rev. Martin Luther King Jr., Cesar Chavez, officials of the American Friends Service Committee, National Council of Churches and other civil rights, religious and peace movement leaders.

However, the most vicious and reprehensible acts were taken against the leaders and organizations associated with the Black Power or Black Liberation Movement. Assata Shakur, was a member of the Black Panther Party, one of the leading groups associated with the Black Liberation Movement. The Black Panther Party was the primary target of U.S. domestic government political harassment and persecution during this era.

This illegal, clandestine political persecution was wrong in 1973, and remains wrong today.
Come through, Auntie.

Waters also opposed the Iraq War in 2009, when it was unpopular in some political circles to do so. With Waters' lengthy and consistent record of being on the right sight of history, despite all of the vitriol thrown in her direction, we began our wide-ranging conversation at the core: courage.

The Root: Congresswoman Waters, how do you sustain your courage, your conviction, in the face of so much rampant and perverse institutional violence? And when I say "violence," I'm talking about the violence of silence, the violence of complicity, economic and systemic violence that says every single day that black lives do not matter?

Maxine Waters: Well, you know, it's not something that I have to think about. I have 12 brothers and sisters. I came from St. Louis and I've seen a lot of pain and poverty and people who never got a chance to realize their potential because of their circumstances. And so I've always felt that there was injustice and that many people, particularly African Americans, didn't have a real chance.
When I was little, we were on welfare at one point. Social workers would come to our home, and they were powerful. They could tell you what you could do, what you couldn't do; they would look in your refrigerator, look under the bed, all of that in the day. I thought at the time that I really wanted to be a social worker so that I could help people, because I saw exactly how they related to poor families. Later on in life, I learned that public policy was made by politicians. And I knew I wanted to be a part of the solution.
TR: During the [Not One Step Back] "Strength, Courage and Wisdom" panel, Dr. Iva Carruthers, co-founder of the Samuel DeWiW Proctor Conference, said so powerfully that black mothers, particularly black mothers of sons, have to have courage each and every day. They have to have the courage to say, "We charge genocide." I agree, we must charge genocide, but I want to talk about what that means for our girls.
I know you have a son and a daughter. Sexual assault is the second-most-reported form of police brutality. Black women have to navigate not only white supremacy, capitalism and state violence but patriarchy and misogyny, and how all of these things intersect. How do we, as Tarana Burke, senior director of programs for Girls for Gender Equity, says, continue to "ring the alarm" for our black girls?
MW: Well, let me just move forward a little bit before I talk about that. I really do believe that black women are really emerging as leaders in this country. I feel it, and I feel it in ways that continue to be unveiled every day. There is an emergence of black girls in our colleges and universities. I see young black women lawyers, and how good I feel about that.
My message to black girls is, you are special and you are important. Love yourself for who you are, how you look and move on. Do not be influenced or undermined or disparaged by others who would say that you are not enough or not who they want you to be. Black girls are equally as deserving of protection as black boys, and we must do our best to support them.
TR: I know you were an assistant Head Start [a federally funded education program for low-income students] teacher in Watts in the 1960s during the Watts Rebellion. You've said that you had mostly black teachers doing your formative years.
MW: Yes, that's right.
TR: So let's about the charter school experiment. I know the Democratic Party has had clashing views on that, leaning more toward supporting privatization under President Barack Obama, to now creating a more progressive education platform. Still, I wonder about this education experiment and how charter schools are framed as "choice."
It's not so much the parent's choice as it's white supremacy's choice. Which black children get to jump through these hoops to be grateful tokens? Who gets pushed out? How important is it to you now, during this heightened moment of state violence, that in many ways is reflective of the climate during the Watts Rebellion, to focus on reinvesting in public education?

MW: I've been worried about the privatization of education and charter schools for quite some time, and I've watched what has happened with charter schools and how they have been promoted by certain people in this country. Charter schools and private schools tend to cherry-pick, and they pick kids that they think are going to be successful anyway. And they pick kids that they believe are not going to be so-called problems.
TR: I also look at Mayor Rahm Emanuel closing schools in Chicago and betting on pre-K education with Goldman Sachs and their tricky social-impact bonds. New Orleans is disappearing black school-age children, and black teachers are undervalued and underpaid ...
MW: Well, I don't trust Rahm Emanuel; that's the first thing.
TR: Hello!

MW: And he's a politician's politician who knows the game very well. He raises tremendous sums of money; he's connected not only through the [Hillary] Clinton campaign and Barack Obama's campaign, but also his brother out in Hollywood, with the entertainment industry. The kinds of decisions that I think he has made in Chicago are decisions that do not bode well absolutely for the school system and for African Americans and for those kids out there involved with guns. He believes he has real involvement in the black community with people he's never talked to.
One of the things kids know, they know when you're afraid of them, and when you're real and when you're not. And if you're not afraid of them and you're willing to go, you can walk through any community and sit on any stoop. You get in a playground and just listen and just talk, and then be prepared to stand up for them at the right time. So this business of consolidating those schools, closing down schools, means Emanuel doesn't understand what communities are.

TR: bell hooks taught us about the politics of location and the margins being a place of resistance. So I want to bring in the half of the country that didn't vote or voted third party. W.E.B. Du Bois said there are no two parties and only one evil exists. Malcolm X talked about the fox and the wolf. Angela Davis consistently teaches us that we need a new party. We see everything from the mass-incarceration boom under Bill Clinton to Obama's destabilization of Libya and the bombings in Yemen, Syria and Sudan.
Then we have an entrenched regional caste system where black folks in the Deep South don't have access to health care despite the Affordable Care Act. What do you say to those people who do not trust Democrats or a system that isn't broken but is working exactly as intended?
MW: I understand the distrust, and I also do not like the way the traditional party has worked in so many ways. When you look at how the Democratic Party is organized and you go to the state central meetings or the county, you know, it does not represent America. There's room for change and improvement, but if change is to ever come, it will come from the people who don't like what they see, don't like what they're experiencing and believe that they have a right to lead.
What is it about politics that makes you think that you have to depend on others, the ones who have done it traditionally, to be able to change it or to make it what you want it to be? Another party is possible if [people] are willing to work for another party. And if millennials are willing to challenge the Democratic Party and they're willing to say we're going to have our own conventions, that is possible.
TR: There is a lot of talk about identity politics and "the white working class," as if white people in poverty have not been and are not today capable of viciousness. Whiteness is the most toxic identity. There are people invested in sustaining white supremacy on both sides of the aisle. Trump is just the current representative. How do we have an American reckoning, a resistance that lives beyond and encompasses more than 45?
MW: There are politicians, whether they're Democrats or Republicans, who have neglected their constituents in their neighborhoods. Still, we really do need to think seriously about how the result of that election is being analyzed and what people are saying about what happened, and all of that has been said about those who are dissatisfied with the Democratic Party. They're not talking about all the people who have fought in the civil rights movement for voting rights and civic participation.
Now, if you're talking about small towns and you're talking about rural communities, most of those are represented by white men. What have these white men done for people in those small towns? What kind of public policy do they engage in on their behalf? I don't want us to see some big shift of where all of a sudden we've done too much for [black people]; now we have to do something else, no. I hope those people who voted for Trump will come to their senses so that at 2018, they'll know better who to vote for at the local level and at the state level, and God willing, they will know that we need to get rid of him, out of office, now.

---
After giving me a hug and chatting for a few minutes, Waters exited the conference room to go and give a 45-minute keynote address. She was met with thunderous applause. Afterward, she stood, in heels, for close to an hour shaking hands and taking pictures with young people who traveled to see their favorite auntie.

"[Waters] is probably safe for another 10 years," Rob Stutzman, former communications director of California's Republican Party, said gleefully in 2002 as redistricting threatened to upend her base constituency.
He—like so many others—was wrong.
If one thing is clear, Maxine Waters is also a warrior, as most black aunties are.
And she's not going anywhere.