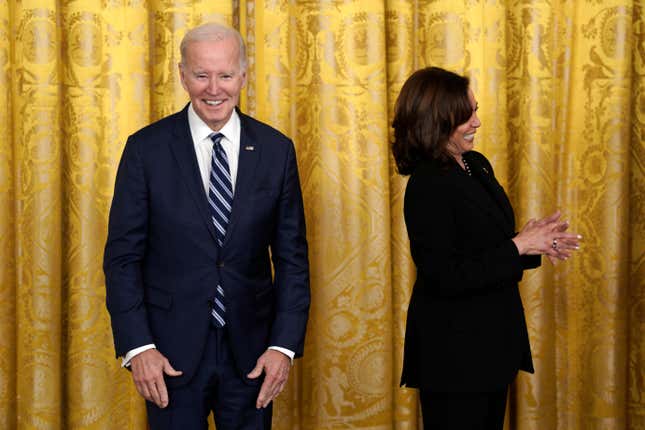 The White House said this morning that President Joe Biden would travel to Selma, Ala., on Sunday to commemorate the 58th anniversary of "Bloody Sunday", the historic civil rights march in which police battered peaceful demonstrators, including the late Rep. John Lewis.


Biden is expected to use the occasion to press Congress to pass legislation codifying federal protections to voting rights, including the proposed John Lewis Voting Rights Advancement Act and the Freedom to Vote Act. Both measures are aimed at challenging strict voting rules put in place by many Republican-controlled state legislatures, which Democrats and voting rights activists say were aimed at decreasing voter registration and turnout among left-leaning voters, especially Black voters.

The John Lewis Voting Voting Rights Advancement Act would re-establish the concept of "preclearance", a precept of election law that required states and other jurisdictions to seek review and approval from the Justice Department before they could make changes to laws that would impact voting rules. Preclearance was a major pillar of the Voting Rights Act of 1965 and it prevented the return of Jim Crow-era voter suppression tactics like poll taxes and literacy tests, as well newer strategies to suppress Black votes.

But in 2013, a conservative Supreme Court majority ruled in Shelby County v. Holder that preclearance was no longer necessary to change voting rules, a decision that has since allowed hundreds of new voting restrictions, from local voter ID requirements, which paired with the closure of state offices that issue identification, made it difficult for people living in areas like Alabama's "Black Belt'' counties, to obtain the necessary credentials to register or cast votes. Other measures, like one signed in 2021 by Georgia Gov. Brian Kemp, restricted absentee ballot boxes which had been often used by Black voters, and even banned passing out food or water to people waiting in long lines at the polls.

Voting rights are among a slew of appointments and policy proposals aimed at Black voters that have been part of Biden's agenda since he was a candidate for the presidency in 2020. Justice Ketanji Brown Jackson was confirmed as the first Black woman on the Supreme Court last year, after Biden followed through on a campaign pledge to nominate a Black woman to the bench. Biden supported a recent change by the Democratic party to switch its first primary in the 2024 contest to South Carolina from the Iowa Caucuses. In 2020, Biden finished fourth in Iowa, which is more than 84 percent white, but his campaign recovered in South Carolina, which is nearly a third Black and where he took almost half of the primary votes cast.

At a White House reception on Monday marking Black History Month, Biden talked up policies aimed at supporting the Black voters who helped put him in office, including an extension of the federal Child Tax Credit, the Electoral Count Reform Act and the Emmett Till Antilynching Act.

"We wouldn't be anywhere without the people in this room," he said. "Not a joke. Not only would I not be standing here, we wouldn't have passed all the stuff that's made a difference."

Still, passing some of Biden's proposals has been a tough sell, and will only get tougher with a now-divided Congress. Republicans in the Senate repeatedly shut down efforts to pass bills including the John Lewis voting rights bill and the George Floyd Justice in Policing Act, even after a Democrat-controlled House had passed them. They face an even tougher road now with the House controlled by the GOP, which has opposed both measures.