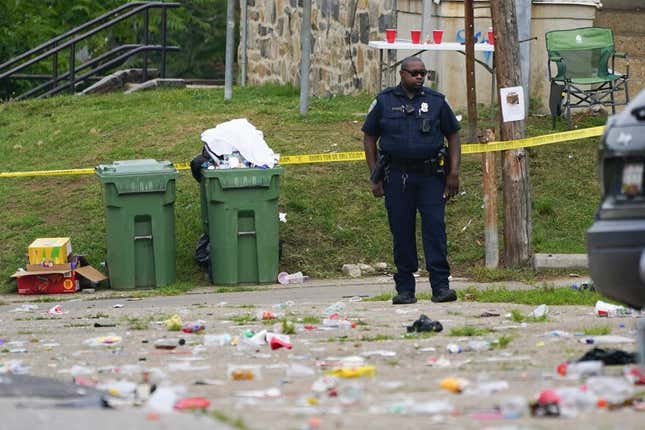 Baltimore Mayor Brandon Scott published a city department-wide performance review in response to criticisms of the Baltimore police department's response to the Brooklyn Homes mass shooting in July. Turns out, the police didn't do what they were supposed to in helping prevent chaos from ensuing.

Tackling A Black Maternal Health Crisis & Embracing Reproductive Justice | The Root Institute
Mayor Scott released an Agency After Action report in connection to the July 2 shooting that claimed the lives of two people and injured 28. The review was conducted by the Compliance Bureau which is responsible for self-assessment and discovered some disheartening factors that preceded this disaster. There was a general lack of knowledge of just how big the event was going to be and, therefore, a lack of requests for additional officers or resources. Plus, they just weren't proactive in doing crowd control. The report noted patrol cars passed the event and kept it moving without touching base with the officers present.

Much of this was attributed to officer indifference - which pretty much sounds like the officers' own biases led them to just not care enough to provide their best service.
Read more from the report:
Officer indifference may have compromised the awareness, planning and response to Brooklyn Day prior to the large crowds arriving. Members of the community can view such indifference (whether real or perceived) as a form of bias and from the community's perspective, delayed response time, failing to take reports, and clearing calls without sufficient follow up can also be interpreted as officer indifference.

The Equity Assessment revealed that many Baltimore Police Commanders over-rely on transactional and formal associations that are least relational in nature. This reflects both racial and cultural issues as well as a police adherence to paramilitary structure. The assessment revealed various levels of interaction with the community: (1) presence and visibility; (2) transactional associations; (3) formal associations; (4) informal engagement; and (5) personal relationships.

Relative to the Brooklyn Day 2023, Commanders depended upon agencies, community organizations, etc. to inform the police department about Brooklyn Day; however, these entities were not involved in the coordination or planning of 2023 Brooklyn Day events; nor were they associated with the individuals who eventually did.
See, this is why there's such a big fuss about community-police relationships. The report says community members believed if Brooklyn Homes was majority white, there would have been a more adequate response to preventing violent outbursts. The report recommended each city agency develop "neighborhood summaries" to take a hands on approach in being involved in community gatherings as well as prioritizing DEI training for department employees to maintain "situational awareness."
"With these After Action Reports, we've identified a number of findings, revelations, and recommendations that will offer us valuable insight into exactly what occurred or did not occur within City government leading up to this horrific act of violence. But they also lay the foundation for the path forward as we seek to address those shortcomings," wrote Mayor Scott in a statement.