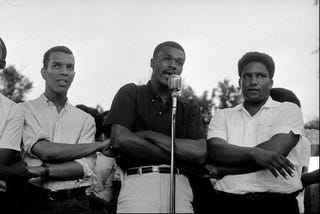 The Root's partner Slate.com has pulled together a photo gallery of images of the SNCC (Student Nonviolent Coordinating Committee). The SNCC was central to the civil rights movement here in the United States. It emerged from a series of student meetings led by Ella Baker and held at Shaw University in Raleigh, N.C., in April 1960.
Leaders who ushered SNCC through various philosophical changes — like John Lewis, Stokely Carmichael (Kwame Ture), Ivanhoe Dixon, Willie Ricks, Cordell Reagon, James Forman, Charles Cobb and Marion Barry — appear in the photos. SNCC members can be seen participating in various acts of resistance. There is even a photo of Frank Smith, Robert Pariss Moses and Willie Peacock the day before their Greenwood, Miss., SNCC office was firebombed in March 1963. Take a walk down memory lane with an organization that played an integral role in the fight for freedom in the United States.
Check out the photo gallery at Slate.com.
In other news: Magic Johnson: Entrepreneur Invests in Vibe Holdings, LLC.