Does Beyoncé realize that women have been carrying and birthing babies for thousands of years? More to the point, do we?
I get the fact that by now, all bets are off when it comes to celebrity motherhood — what with Erykah Badu live-tweeting her home birth and "it" girls introducing their Havens and Sparrows to the world in People. We know all about how Gisele's bathtub birth didn't hurt, and very soon we will know what Kingston, Zuma and all of the Jolie-Pitts wore for Halloween.
But I think I may have to draw the line at the continuous, wall-to-wall blitz that has become Beyoncé's pregnancy. It may be the perfect symbol of married black love — which many a culture critic has said that we desperately need to see — writ large. It may be the ultimate marketing machine, swathed in couture as befits hip-hop royalty. But the mania surrounding this biological event has gotten way out of hand.
I'm happy for you, Bey, but the joy growing inside your womb is not the blueprint, and it is not biblical. It isn't the Visitation; nor is it the dawn of a new epoch in the human calendar. It's a baby.
Beyoncé is all about doing things large and loud, and her August baby-bump reveal at the MTV Video Music Awards didn't disappoint. With the rub broadcast round the world, she instantly locked down Best Gestational Red Carpet Moment Ever, setting a 8,868-tweet-per-second record that dwarfed news of the royal wedding and the killing of Osama bin Laden.
G/O Media may get a commission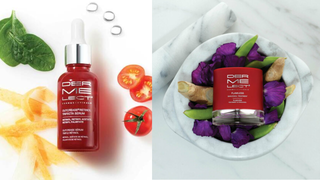 Save $19
Retinol Renewal Kit
It wasn't just another blingy pop-culture moment: That reveal was the 21st-century equivalent of a pregnant Lucille Ball shattering convention in 1953, when the childbirth episode of I Love Lucy beat out ratings for Dwight Eisenhower's presidential inauguration the following day.
Celeb Motherhood Redefined?
Twenty years after Demi Moore's watershed pregnancy cover for Vanity Fair, Beyoncé is making it clear that she's ready to grab the mantle and redefine celebrity motherhood, commanding the world to feel the love inside her sequined tuxedo jacket.
"It's a very human instinct going back centuries, this fascination with what's really going on in pregnancy. Is she or is she not? What's going on inside that bump?" says Ziv Eisenberg, a Yale historian who studies the history of pregnancy in modern America. "But in the last 50 years and especially the last 20, we've been constantly redrawing the lines and asking, what parts of the pregnant body can we consume?"
In Beyoncé's case, the better question might be what parts can't we consume. Last week Sasha Fetus frenzy kicked into overdrive, going far beyond the daily bump watches reserved for mere mortals named Beckham and Hudson. For one thing, Beyoncé's bump watch has become a breast watch, with celebrity blogs tracking her changing cup size — Bey's breasts growing overnight! – and marveling at the jaw-dropping revelation that pregnant women's boobs swell.
It's also become a global countdown to rival Y2K: Beyoncé's announcement last week of her February due date sparked such balanced coverage as, "Looks like Valentine's Day isn't the only thing the world will be celebrating next February!" And then of course there's the fake-bump conspiracy — a surreal story line that took a turn for the even more surreal last week, when bloggers identified Beyoncé's womb as "collapsing" on camera as she sat for an interview on Australian TV. It must be a prosthetic! There's a secret surrogate carrying Jay-Z's seed!
I've given birth three times in my life, and while I never took maternity fashion to new heights by rocking leather shorts, I think I can speak for many a mother when I say that the contortions of a womb with a baby inside it are endless, occasionally frightening and not necessarily meant to be freeze-framed in high definition and plastered across the Internet. If you don't already know this, you should stop watching clips of Beyoncé bending down to sit in a chair and spend some time around a pregnant woman.
A Mom-to-Be Who Knows Her Place
There are a few celebs who seem to understand that their pregnancies don't signal the second coming. Alicia Keys' earth mother/goddess phase fell well within the bounds of normal navel-gazing; Mariah Carey was downright cagey for months (though she's now ready to give her twins the Barbara Walters treatment).
But you have to cross the Atlantic to find a celebrity who truly "gets" her place within the history of childbirth — a woman like Carla Bruni-Sarkozy, the former supermodel, singer, glamour icon and wife of French President Nicholas Sarkozy. The first lady of France is due any minute now.
Bruni-Sarkozy — who appeared in Woody Allen's recent Midnight in Paris, once worked the runways for Dior and Chanel and at one point dated Mick Jagger — is no stranger to the spotlight. Today she is easily the most watched woman in France. But when she was asked about her pregnancy in a recent BBC interview, she uttered a word you'll never hear coming out of Beyoncé's mouth in any context, much less regarding the arrival of her firstborn: "banal."
"There isn't much to say," the first lady of France told the British news service. "So many women are expecting children and giving birth, and it's so uninteresting for French people." The absence of self-involvement was so shocking, her comments became the anti-bombshell bombshell — with People promptly packaging the story under the blaring headline, "France Is Not Interested in My Baby." Well, Carla, you tried.
Bruni-Sarkozy likely has her own reasons for staying low-key: At 43 she's an older celeb mom, and she has gone on record as saying she is superstitious. There's also the issue of her husband's often slipping, sometimes plummeting popularity, and the role that some argue she has played in it. With 27 weeks to go as Sarkozy tries to carry a second presidential victory to term, I have to think that part of his wife's subdued state is a political calculation.
There are cultural forces at work, too: Lately in France, it's the mistress, not the mini-me, who has gotten the public salivating. "Carla was a scandal to begin with," says Rosanna Hertz, professor of sociology and women's studies at Wellesley College. "She's [Sarkozy's] third wife; he's much older than she is. If anything, the baby normalizes them, and the country probably really doesn't care."
Still, something about Bruni-Sarkozy reminds me of the French exchange student who came to live with our family in Philadelphia one summer. I remember taking her down winding cobblestone streets and stopping at the Liberty Bell and Ben Franklin's print shop, waiting for her to be impressed and amazed. She was neither.
She had an innate sense, as many Europeans do, that the world has been spinning for some time, and the people in it figured out this human-civilization thing several millennia ago, setting cobblestones in mortar to make roads and growing babies in utero to make people.
As breathlessly calculated by the blogosphere, Beyoncé Knowles is about 20 weeks along. For those enthralled by the mystery of what her couture caftans are hiding, I've got some very juicy details: Right now her baby weighs a little less than a bag of Doritos and is about the length of a banana. It is learning how to swallow, its eyebrows and eyelids are almost fully developed and it is producing meconium (otherwise known as baby's first feces).
That exclusive scoop comes from babycenter.com, which also suggests this at 20 weeks: "Treat yourself to something nice. You've made it to the halfway mark, so celebrate with a little indulgence. Need some ideas?"
I think that's a rhetorical question for you, Bey.
Francie Latour is a journalist and author of two blogs on race and culture: Caramels on Maple Street and Boston.com's the Hyphenated Life.