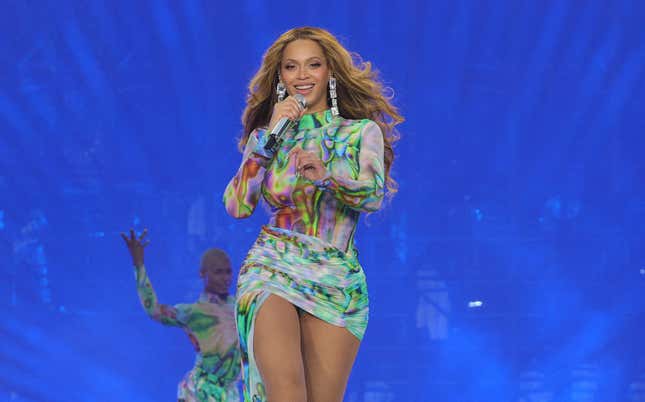 With the music world still reeling from the death of icon Tina Turner, shock is beginning to give way to a celebration of her influence and legacy. We all expected Beyoncé to pay tribute to her idol during her Renaissance tour, and the "Halo" artist did not disappoint. On Monday, during a show in London, Bey performed a soaring, powerful version of Tina's 1966 hit, "River Deep, Mountain High."

Tina Turner Dies At 83: Her Life Through The Decades
"I just want to take a second and honor Tina Turner," Beyoncé said on Friday during a stop in Paris. "If you're a fan of mine, you're a fan of Tina Turner. I wouldn't be on this stage without Tina Turner, so I want you guys to just scream, so she can feel your love. I feel so blessed that I was allowed to witness her brilliance."
"River Deep, Mountain High" is a surprising choice, as many fans were expecting a high-energy rendition of Tina's signature classic, "Proud Mary." Bey previously performed it alongside Turner at the 2008 Grammys and saluted her with it at the 2005 Kennedy Center Honors. The "Break My Soul" singer is going to be on tour for the rest of the year. If I had to guess, I would say "Proud Mary" could become a part of the show, but she needs to work on it and perfect it, before she adds it to the setlist.
"My beloved queen. I love you endlessly," the Grammy winner posted to her website. "I'm so grateful for your inspiration, and all the ways you have paved the way. You are strength and resilience. You are the epitome of power and passion. We are all so fortunate to have witnessed your kindness and beautiful spirit that will forever remain. Thank you for all you have done."
Tina Turner passed away at the age of 83 on Wednesday. Oprah Winfrey, Angela Bassett and Mariah Carey were among the celebrities who immediately showed their love and gratitude to the groundbreaking artist.